La viscérosensibilité chimique intestinale: Mécanismes et implications dans le contrôle de la prise alimentaire chez le rat
INTRODUCTION: Although, the implication of intestinal chemosensitivity in the control of food intake is now widely accepted, its precise mechanisms and its modalities of communication with the central nervous system remain poorly understood. OBJECTIVE: the aim of this study was to refine our understanding of nutrient detection within the intestine and to determine the involvement of vagal pathways in the transfer of visceral information from the gastrointestinal tract to the brain. RESULTS: the present study supports the hypothesis proposing that the intestine can be considered also as a sensory organ. It also appeared that the vagus nerve does play a role in transmitting visceral information to the brain. CONCLUSIONS: Vagally mediated intestinal chemosensitivity should be regarded as a sensory system having a strong influence on food intake control. Understanding its implications in energy homeostatic control will undoubtedly lead to develop new therapies to fight the present obesity epidemics.
INTRODUCTION : S'il est fortement pressenti que la viscerosensibilité chimique intestinale, c'est-à-dire la détection des macronutriments dans le contenu intestinal est un des paramètres clé de la régulation de la prise alimentaire pendant la digestion, nos connaissances sur ces phénomènes sont encore très fragmentaires. On ignore notamment les mécanismes précis responsables de la détection des nutriments dans l'intestin et les modalités de transmission (nerveuse ou humorale) des signaux ainsi générés vers les centres de régulation du comportement alimentaire. OBJECTIF : L'objet de ces travaux a été de préciser les mécanismes de la détection des nutriments dans l'intestin et de déterminer l'implication du nerf vague dans la transmission des informations de la viscerosensibilité chimique intestinale vers le système nerveux central. RESULTATS : Les résultats obtenus ici confirment le modèle selon lequel l'intestin peut être perçu comme un organe sensoriel capable, pendant la digestion, de détecter la présence de certains macronutriments. Le nerf vague participe activement à la transmission de l'information générée au niveau de l'intestin vers le système nerveux central. CONCLUSIONS : Le système viscérosensoriel chimique intestinal est une composante sensorielle à part entière qui exerce un puissant rôle dans le contrôle de la prise alimentaire. Les avancées dans la compréhension de ces mécanismes et de leur rôle dans l'homéostasie énergétique ouvriront sans nul doute de nouvelles voies dans le développement de thérapies contre l'obésité.
Fichier principal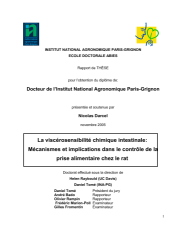 These_N._Darcel_Nov2005.pdf (7.98 Mo)
Télécharger le fichier
Origin : Files produced by the author(s)