Ruissellement et risque majeur, crue centennale en milieu urbanisé. Etudes de cas : le Grand-Bornand, Nîmes, Paris et Vaison-la-Romaine
The report analyses four cases of new French disasters: le Grand-Bornand (1987), Nîmes (1988), Paris (1990) and Vaison-La-Romaine (1992).Chapter 1 deals with run-off waters definition in agricultural, forest and urban environment . Chapter 2 describes the four disasters, cited above, and some new foreseeable disasters. Chapter 3 is an attempt to analyse the reasons for aggravation or limitation of the impacts of rains and to describe techniques against run-off waters in urban site. At the end, a methodical guide with examples is proposed for the management of flood risks due to run-off waters. The report is intended for the town and country planning experts (urban planners, architects, landscapers and street engineers). It gives complementary mark for sewage engineers, in fighting against centennial run-off waters. In conclusion, the report sets up the basic techniques, for setting in motion appropriate means in fighting against run-off damages, knowing that such a fight must concern both the formation of run-off waters and their effects. Furthermore,there are different technical solutions for each stage of the run-off process.
Le travail présenté dans ce mémoire s'appuie sur quatre études de cas de récentes catastrophes françaises : le Grand-Bornand (1987), Nîmes (1988), Paris (1990) et Vaison-La-Romaine(1992). Après avoir fait le point sur les connaissances actuelles sur les ruissellements en milieu agricole, forestier et urbain (chapitre 1) et avoir analysé les quatre catastrophes citées et des catastrophes prévisibles (chapitre 2), nous abordons les facteurs qui nous semblent aggraver ou limiter le risque pour en arriver à une série de propositions techniques de lutte contre le ruissellement en milieu urbain (chapitre 3). Enfin, un guide méthodologique et des exemples,pour approcher le problème de la gestion de ces crues, sont proposés. Cette thèse, destinée aux aménageurs du territoire, Urbanistes, Architectes, Paysagistes et Ingénieurs de voirie, est une recherche multidisciplinaire : elle sert d'approche complémentaire aux efforts réalisés par les responsables des réseaux d'assainissement pour lutter contre les crues centennales. Le rapport pose les bases techniques élémentaires pour enclencher les moyens de lutte contre le ruissellement, sachant que cette lutte doit s'effectuer aussi bien contre la formation du ruissellement que contre ses effets, et qu'à chaque phase différente du processus de ruissellement (rétention, conduite d'écoulement, protection) correspondent différentes solutions techniques.
Fichier principal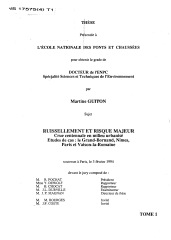 1994TH_GUITON_M_NS17575_1.pdf (15.3 Mo)
Télécharger le fichier
1994TH_GUITON_M_NS17575_2.pdf (27.35 Mo)
Télécharger le fichier
1994TH_GUITON_M_NS17575_3.pdf (17.28 Mo)
Télécharger le fichier