On the network awareness of P2P applications.
Applications TV pair-à-pair conscientes du réseau
This work originates in the context of the ''NapaWine'' European project and its main goal is to make P2P applications aware of the underlying network topology. This information (e.g., path capacity, latencies, etc.) helps to optimize P2P traffic and its benefits are twofolds: on one hand operators can limit traffic on peering links by confining traffic in their AS. On the other hand, users can experience higher quality of service due the proximity of neighbors. To tackle the problem we first analyze existent applications and we especially gauge their level of network awareness: since many systems are closed source, we study them as black boxes by means of purely passive analysis, then we setup a controlled testbed and finally we make use of parallel active probing to gather dynamic neighbors properties. As a second step we test state of the art chunk diffusion algorithms in a realistic simulator where we model latencies and access link capacities according to academic results. Within such a scenario we study how chunk diffusion performance suffers in presence of measurement errors and out-of-date system state knowledge. Finally we develop an emulation scenario in which we are able to test real applications. Our testbed can scale up to 200 application instances and emulates the topology of the existing research network Abilene; it also allows to perform traffic engineering which we exploit to analyze coupling phenomenon between IP and overlay routing.
Ce travail a origine dans le contexte du projet européen Napa-Wine et son premier but est de rendre les applications pair-a-pair conscientes du réseau qui est au dessous. Cette information (e.g. capacité du chemin, latence, etc.) aide a optimiser le trafic P2P et ses bénéfices sont duplices : d'un coté les operateurs peuvent limiter le trafic sur les " peering links " en le confinant dans leur Autonomous System. De l'autre coté les utilisateurs peuvent connaître une meilleure qualité du service due à la proximité des autres noeds. Pour maitriser le problème, nous analysons les applications existantes d'abord, et nous évaluons leur niveau de conscience du réseau : comme plusieurs systèmes sont " closed source ", nous les étudions comme des boites noires au moyen d'une analyse purement passive, puis nous mettons en place un banc d'essai complètement contrôlé et finalement nous utilisons des sondes actives en parallèle pour déduire les propriétés dynamiques du voisinage. Dans une seconde étape, nous vérifions l'état de l'art des algorithmes de diffusion des morceaux vidéo dans un simulateur réaliste où nous modelons latences et débit d'accès selon résultats académiques. Dans un tel scenario, nous étudions comment la diffusion des morceaux vidéo subit une dégradation de performance en présence d'erreurs de mesure et une connaissance obsolète de l'état du système. Finalement nous développons un scenario d'émulation dans lequel nous pouvons tester des vraies applications. Notre banc d'essai peut gérer jusqu'à 200 instances d'applications réelles et émuler la topologie du réseau de recherche existant Abilene ; il permet aussi de exécuter algorithmes d'ingénierie du trafic que nous exploitons pour analyser phénomènes de couplage entre couche IP et routage applicatif.
Fichier principal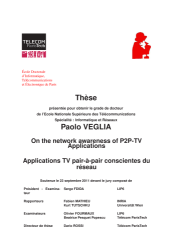 these-paolo.pdf (3.17 Mo)
Télécharger le fichier
phd-defense.pdf (8 Mo)
Télécharger le fichier