Modélisation du comportement dynamique non-linéaire des structures en matériaux mémoire de forme
The dynamical non-linear thermomechanical behaviour of shape memory alloy (SMA) displaying superelasticity is investigated. For that purpose, the Zaki-Moumni (ZM) model, initially developped for quasi-static loading cases, is extended to simulate the uniaxial forced oscillations of a SMA device. The influence of loading rate is accounted for by considering the thermomechanical coupling in the behaviour of NiTi shape memory alloy. The model is compared to experimental results on a wire subjected to tensile loadings at different strain rates, showing good agreement. Then, the forced response of a SMA device is investigated at resonance. Both isothermal and non-isothermal conditions are accounted for, as well as non-symmetric tensile-compressive restoring force. In the case of large values of forcing amplitudes, simulation results show that the dynamic response is prone to jumps, bifurcations and chaotic solutions.
Le comportement thermomécanique des matériaux à mémoire de forme est étudié dans la plage de leur pseudoélasticité. En effet, le modèle Zaki-Moumni initialement validé dans les conditions de chargements quasi statiques, est étendu à l'effet de la vitesse de chargement par la prise en compte du couplage thermomécanique. Les résultats de la simulation de cette extension sont comparés à l'expérience et montre une bonne reproduction qualitative des observations à différentes vitesses de chargements et à température initiale fixée. Le modèle tridimensionnel est ensuite réduit pour analyser les oscillations unidimensionnelles d'un dispositif en matériaux à mémoire de forme. La réponse en fréquences de l'oscillateur forcé est alors investie autour de la résonance. Les oscillations isothermes et non isothermes ainsi que la dissymétrie en traction-compression de la force de rappel, sont prises en compte. Des phénomènes dynamiques tels que le chaos, le doublement de périodes et les sauts autour de bifurcations dans la solution, apparaissent pour des amplitudes de chargement élevées et pour des paramètres matériaux donnés.
Fichier principal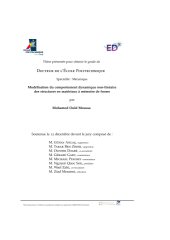 modelisation_du_comportement_dynamique_des_MMFS.pdf (43.28 Mo)
Télécharger le fichier