Use of reversible covalent and non-covalent bonds in new recyclable and reprocessable polymer materials.
Mise en œuvre de liaisons réversibles covalentes et non-covalentes pour de nouveaux matériaux polymères recyclables et retransformables.
Incorporating reversible bonds in polymer materials is an attractive method for obtaining crosslinked networks, that can still be reshaped or recycled after use. In the scope of this thesis, we synthesized and studied polymer networks maintained through two distinct types of reversible bonds: non-covalent hydrogen bonds and covalent ester bonds able to be exchanged through trans-esterification reactions. In a first section we report the synthesis of different types of supramolecular polymers from fatty acid derivatives, epoxy resins and polyethers. These polymers are modified with a supramolecular moiety (imidazolidone) able to strongly self-associate through multiple hydrogen bonding. Some of these polymers display the surprising ability to self-heal when broken parts are put in contact for a few minutes. A rheological study is carried out in order to characterize the effect of supramolecular groups on the mechanical properties of the materials. In a second section we study epoxy-based materials. Such materials are known to be irreversibly crosslinked after cured. However, when modified in order to allow for some exchanges of ester bonds, the materials can be ground then extruded, or thermoformed even after complete curing.
L'incorporation de liaisons réversibles dans des matériaux polymères constitue une méthode attrayante pour obtenir des réseaux réticulés, qui peuvent cependant être retransformés ou recyclés après utilisation. Au cours de cette thèse, nous avons synthétisé et étudié des réseaux polymères maintenus par deux types distincts de liaisons réversibles : les liaisons hydrogène (non-covalentes) et les liaisons ester (covalentes, mais susceptibles de s'échanger par trans-estérification). Dans une première partie sont synthétisés différents types de polymères supramoléculaires à base de dérivés d'acides gras d'origine végétale, de résines époxydes et de polyéthers. Ces polymères sont modifiés avec un groupement fonctionnel (imidazolidone) capable de s'associer fortement par des liaisons hydrogène multiples. Certains de ces polymères présentent l'étonnante capacité de pouvoir s'auto-réparer par simple mise en contact une fois cassés. Une étude rhéologique des différents systèmes est réalisée afin de caractériser l'effet des groupes supramoléculaires sur les propriétés mécaniques. Dans une seconde partie, des matériaux à base de résine époxyde, réputée pour durcir irréversiblement, sont modifiés afin de permettre des échanges de liaisons ester. En conséquence, les matériaux obtenus après réticulation peuvent encore être remis en forme par broyage, puis injection ou par thermoformage
Fichier principal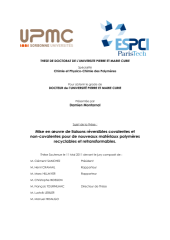 These_D.Montarnal.pdf (13.8 Mo)
Télécharger le fichier
Presentation_ThA_se_V0.ppt (25.2 Mo)
Télécharger le fichier