Central Integration of Dietary Protein Signalling
Cartographie centrale de la sensibilité interne aux macronutriments
Protein is accepted as the nutrient with the most satiating effect. During digestion it acts at different levels. In the stomach it delays gastric emptying and maintains the effect of gastric distension on satiety. In the gut amino acids (AA) and peptides are detected and this leads to an activation of the vagus nerve and the release of gut hormones. The vagus nerve then transmits the signals to the dorsal vagal complex (DVC), responsible for meal termination. Circulating gut peptides and absorbed AA are also detected in the hypothalamus, which is the main structure controlling energy balance.
The exact mechanisms by which dietary protein influences hunger and satiety signalling are not yet fully understood. To gain insight, in this thesis we carried out 3 projects. Firstly, concerning transmission of protein signals by the vagus nerve, our study showed that vagal capsaicin sensitive fibres are not necessary for high protein (HP) diet induced hypophagia, and thus that compensatory mechanisms probably exist which enable adaptation. Secondly we compared the activity of DVC regions in response to a protein or carbohydrate load. Using 3D reconstruction neurones were found in distinct though partially overlapping positions in the NTS. This suggests that short-term protein signalling is specifically transmitted to the DVC. In the third project, we discovered that mice fed a HP diet for 6 weeks had altered body composition but not food intake or body weight. These results suggest an effect of protein on energy metabolism independent from the satiating effect. Further studies may help to understand the role of protein in meal size control, energy balance and body weight regulation.
Les protéines sont considérées comme le macronutriment avec le pouvoir de satiété le plus fort. Pendant la digestion les protéines agissent à différents niveaux: dans l'estomac, elles retardent la vidange gastrique et prolongent donc la distension gastrique agissant ainsi sur le rassasiement; dans l'intestin des acides aminés (AA) et les peptides sont détectés et entraînent l'activation du nerf vague et la libération de médiateurs gastro-intestinaux. Le nerf vague transmet ces signaux vers le complexe vagal dorsal (DVC), responsable du contrôle de l'ingestion. Les peptides gastro-intestinaux ainsi que les AA absorbés sont également détectés au niveau l'hypothalamus, en charge de la régulation de l'équilibre énergétique.
Les mécanismes exacts par lesquels les protéines alimentaires influencent la faim et la satiété ne sont pas encore compris. Pour mieux comprendre ces phénomènes, nous avons réalisé 3 études qui constituent le présent travail de doctorat. Tout d'abord, concernant la transmission des informations relatives à la présence de protéines via le nerf vague, une première étude a montré que les afférences vagales de la zone hépato-portale ne sont pas nécessaires pour la dépression de la prise alimentaire induite par un régime HP. Deuxièmement, nous avons comparé les motifs d'activité neuronale dans le DVC en réponse à une charge protéique ou glucidique. L'utilisation de techniques de modélisation et de reconstruction 3D a permis de montrer que les motifs d'activité neuronale par la présence de protéines et de glucides sont spatialement distinctes. Dans une troisième étude nous avons testé l'effet des protéines sur le métabolisme énergétique et sur la réponse à une stimulation inhibitrice de la faim, ce dernier paramètre ne semble pas être significativement modulé par une augmentation de l'apport en protéine de la ration chez la souris.
Fichier principal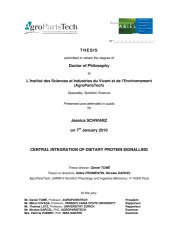 THESIS_Jessica_Schwarz_2010.pdf (3.15 Mo)
Télécharger le fichier
journal.pone.0008974.s003.mov (5.79 Mo)
Télécharger le fichier