Development of a systemic method of impact evaluation of the agricultural development projects on the producers' income. Case study in kpèlè region (Republic of Guinea)
Mise au point d'une méthode d'évaluation systémique d'impact des projets de développement agricole sur le revenu des producteurs. Etude de cas en région kpèlè (République de Guinée)
Today, impact evaluation of development projects is dominated by quantitative methods, both experimental and quasi experimental. Yet, they are difficult to apply to agricultural development projects, and do not allow for quantification of the impact over the useful life of the project realisations. This thesis proposes a new method, the systemic impact evaluation. It enables us to understand both the process through which impact materializes and to rigorously quantify the impact of agricultural development projects on the producers' income. The analysis is notably based on the comprehension of the agrarian dynamics and the farmers' strategies, and permits the quantification of ex-post impact but also to devise a model of ex- ante evolution for the following years. The systemic impact evaluation is applied to two major types of development projects in the forest region of Guinea: inland valley development projects and the oil-palm and rubber tree plantation project. These two case studies notably prove the importance of going beyond a mean impact on households: the existence of highly differentiated impacts by farming system is one of the main conclusions of this thesis.
L'évaluation d'impact des projets de développement est aujourd'hui dominée par les méthodes quantitatives : expérimentales ou quasi-expérimentales. Elles sont toutefois difficilement applicables aux projets de développement agricoles, et elles ne permettent pas de quantifier l'impact sur toute la durée de vie des réalisations. Cette thèse propose une nouvelle méthode, l'évaluation systémique d'impact. Elle permet à la fois de comprendre les processus par lesquels l'impact se matérialise et de quantifier rigoureusement l'impact des projets de développement agricole sur le revenu des producteurs. L'analyse repose notamment sur la compréhension des dynamiques agraires et des stratégies des agriculteurs, et permet de quantifier l'impact ex-post mais également d'en modéliser ex-ante l'évolution pour les années suivantes.
L'évaluation systémique d'impact est appliquée à deux grands types de projets en Guinée forestière : les projets d'aménagements de bas-fonds et un projet agro-industriel de plantations de palmiers à huile et d'hévéas. Ces deux études de cas démontrent notamment l'importance de ne pas se contenter de rechercher un impact moyen sur les ménages : l'existence d'impacts fortement différenciés par système de production est l'une des principales conclusions de cette thèse.
Fichier principal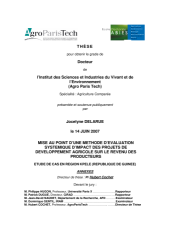 DELARUE_Joeclyne_Annex.pdf (2.59 Mo)
Télécharger le fichier
DELARUE_Jocelyne.pdf (15 Mo)
Télécharger le fichier