Structuration des processus de décision : Le cas de la transfusion sanguine française (1950-1985)
This work is based on theoretical reflection about the way the decision and action processes are structured within organisations, and on an enquiry into the processes that led the French blood transfusion system to take a series of controversial decisions between 1983 and 1985. These decisions were responsible for multiple prosecutions ("French tainted blood scandal"). The theoretical work relies on the strategic analysis of organisations and on the strategic decision processes field; it uses the concept of the strategic paradigm of organisations. The empirical work is supported by an in-depth historical analysis of the French blood transfusion network since the end of the '40s, and of two of its partners: the Public Health Department and the French Haemophiliacs' Association. It includes a detailed analysis of the evolution of scientific knowledge in the field of blood transmissible infections, specifically viral hepatitis and AIDS. The results show that strategic paradigms, identified by historical analysis, were highly instrumental in the decision-making processes of 1983-1985. Within the blood banks network, the strategic, technical and financial independence of each blood bank represented a deep cultural value and a real operational constraint. The French Haemophiliacs' Association and its medical counsellors actively promoted a new therapeutic approach to haemophiliacs, claiming the increased risk of infection was a fallacy. The Health Department had been focusing on the search for a way of regulating an autonomous transfusion system that had proven impossible to control. Compared to a judicial approach and its search for individual failures, this research highlights the importance of the structural context which largely determines the actors' strategies, and illustrates the heuristic relevance of the strategic paradigm concept.
Ce travail est issu d'une réflexion de nature théorique sur les modes de structuration des processus de décision et d'action au sein des organisations, et d'une interrogation concrète sur les processus à l'oeuvre dans le système français de la transfusion sanguine ayant conduit aux décisions de 1983-1985 qui ont fait l'objet de diverses procédures judiciaires (<< affaires du sang contaminé"). La réflexion théorique s'inscrit au confluent de l'analyse stratégique des organisations et de l'étude des processus de décision stratégique, et s'appuie sur le concept de paradigme stratégique de l'organisation. La recherche empirique se fonde sur une analyse historique très approfondie du réseau d'établissements de transfusion sanguine depuis la fin des années 1940 et de deux institutions importantes dans son environnement: l'Association française des hémophiles et le ministère de la Santé. Elle analyse aussi de façon très détaillée l'évolution des connaissances scientifiques sur les infections transmissibles par transfusion, et notamment les hépatites puis le sida. Les résultats font apparaître le caractère particulièrement structurant des paradigmes stratégiques du réseau transfusionnel (où l'autonomie stratégique, technique et financière de chaque établissement émerge à la fois comme une valeur cardinale et comme une contrainte) et de l'Association française des hémophiles et de ses médecins conseils (qui privilégient, à partir du milieu des années 1970, des modes thérapeutiques dont les risques sont constamment minimisés, notamment auprès des hémophiles), alors que le ministère de la Santé se concentre sur les problèmes de régulation d'un système sur lequel il ne parvient pas à avoir prise. Par rapport à une approche judiciaire ayant privilégié une lecture très individualiste des responsabilités, la recherche met en évidence le poids d'un contexte structurel qui détermine largement les stratégies des acteurs, et illustre la pertinence heuristique du concept de paradigme stratégique.
Fichier principal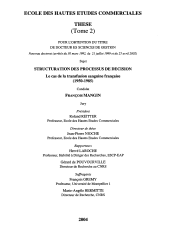 2004_EHEC_0007_T2.pdf (44.49 Mo)
Télécharger le fichier
2004_EHEC_0007_T1.pdf (31.37 Mo)
Télécharger le fichier