Complex Biologic Conception : Planning and business models. The case of equine cloning
Conception biologique complexe : Planification et modèles d'affaires. Le cas du clonage équin.
Life sciences noticed important technological developments during the last decades. Some promising examples, developed in the 90's and 2000's, were mammals cloning, animal and vegetal transgenesis and the therapeutic stem cells. The specialized literature of the life science domain is rich on technical-experimental publications and despite the technical difficulty still present, the authors are optimistic about their commercial issue. These technological advances induced the emergence of a new life science industry where the companies are knowledge intensive and highly specialised. Despite the innovative character and the development of a new market of high added value, the companies of this sector often face economic difficulties. We analysed this recent industry under the managerial point of view aiming to understand the difficulties presented to the managers. Little concern about these problems is available in the specialised literature. In general the technologies are treated individually as an almost unique entity. Under this context it is currently impossible to develop a general overview enabling to study general aspects of this industry. In this aim we proceeded to design a generical model that could allow discussing the managerial characteristics of the industry. This designing effort was necessary to understand the general difficulties met by the companies specialised in these recent technologies. Thereafter the concept can be used to propose managerial improvements. The C-K Theory was employed to structure and translate available information in order to make them available for the design of the model. The data was collected under a case study methodology, as described by Eisenhardt (1989). The existence of a rich panel of recent technologies in this domain justifies the need to develop the concept from a unique extreme case, especially affected by managerial difficulties: the case of the equine cloning. Last and final summary in the thesis.
Les sciences du vivant ont connu des développements technologiques importants dans les dernières décennies. Dans les années 90 et 2000 le monde a assisté à l'apparition de plusieurs technologies a priori prometteuses telles que le clonage de mammifères, la transgénèse animale et végétale ou encore les traitements thérapeutiques par des cellules souches. La littérature spécialisée dans le domaine est riche en publications sur les aspects technico-expérimentaux de ces technologies et, malgré la difficulté technique encore apparente dans les publications, les auteurs sont optimistes quant à la réalisation de ces technologies de façon commerciale. Ces avancées technologiques se sont accompagnées de l'émergence d'une nouvelle industrie du vivant. Les entreprises de ce nouvel environnement sont rapidement reconnaissables par leur besoin intensif de connaissance, leur haut niveau de spécialisation et des compétences hautement spécialisées. Mais, malgré ce caractère innovant, et le développement d'un nouveau marché à haute valeur ajoutée, les entreprises qui se lancent sur ces activités sont fréquemment affrontées à des difficultés économiques. Nous avons souhaité analyser cette nouvelle industrie du point de vue gestionnaire afin de comprendre les difficultés de gestion rencontrées par les acteurs. La littérature académique et empirique traite peu les questions managériales de ces technologies. Généralement, chaque technologie y est traitée de façon très individualisée de façon à ce que chaque technologie soit reconnue comme une entité particulière, presque unique. Ce contexte engendre l'impossibilité d'avoir une vision unifiée et générique de ces industries. Nous avons alors proposé de concevoir un modèle générique permettant de discuter les caractéristiques managériales génériques de cette industrie. Cet effort de conceptualisation est utile dans un premier temps pour comprendre les difficultés de gestion rencontrées par les entreprises dédiées aux technologies récentes du domaine du vivant. Par la suite, le concept peut être utile pour la proposition d'améliorations managériales. La Théorie C-K a été mobilisée pour faciliter l'organisation des informations disponibles et les structurer de façon à en faire des connaissances mobilisables pour la conception du modèle générique souhaité. La collecte des informations a été réalisée à l'aide d'une étude de cas, telle que décrite par Eisenhardt (1989). Comme il existe une grande variété de technologies dans cette industrie, nous avons décidé de développer le concept à partir du cas d'une technologie spécialement touchée par les difficultés entrepreneuriales : celle du clonage équin. [...] Suite et fin du résumé dans la thèse.
Fichier principal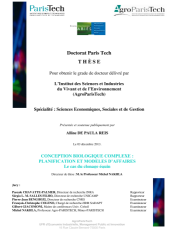 these_soutenue_corrigee.pdf (5.1 Mo)
Télécharger le fichier
Origin : Version validated by the jury (STAR)