Study of organic and organo-mineral dye-doped polymers - Application to integrated lasers.
Etude de matériaux polymères, organiques et organo-minéraux, dopés par des colorants organiques : Application à la réalisation de sources laser intégrées
The first polymer based solid-state dye laser was obtained in the 1970s, but few advances were made with these materials until the end of the twentieth century. Integrated solid-state polymer dye laser research has been developing largely these last years with the coming of better quality polymer materials, be they 'classical' organic or 'sol-gel' hybrid organo-mineral.In this work, material characterization was first performed with respect to spectral and photostability properties of dye-doped polymers. The influence on the material's properties of dye environment and sample ageing was studied.Application of these materials to integrated solid-state dye laser sources was made. The lasing characteristics of the dye-matrix couples as of efficiency, operating lifetime and distributed feedback tuning range, were measured.The comparison of the dye-doped polymer thin films material characterization and system performance measurements enables us to identify the parameters determining the lasing characteristics. In particular, the presence of a strong residual absorption in the fluorescence band lowers the lasing efficiency of the materials. Also, a good thermal conductivity in the material leads to higher operating lifetimes by limiting dye thermodegradation. Compromises must be made between the rigidity of the matrix, which enhances gain, but also leads to higher propagation losses in the material.
La première source laser solide à base de polymère dopé par des colorants organiques a été obtenue dans les années 1970, mais jusqu'à la fin du vingtième siècle, peu d'avancées ont été faites. La recherche de sources laser à colorants solides intégrées s'est beaucoup développée ces dernières années grâce à l'avènement de matériaux polymères organiques 'classiques' et hybrides organo-minéraux 'sol-gels' de meilleure qualité.Dans ces travaux, la caractérisation des matériaux est effectuée en termes de propriétés spectrales et de photostabilité des matériaux polymères dopés par des colorants organiques. L'influence sur les propriétés du matériau de l'environnement de la molécule de colorant et du viellissement est discutée.L'application de ces matériaux à la réalisation de sources laser intégrées est faite. Les performances des couples colorant-matrice en terme d'efficacité, de durée de vie en régime de train d'impulsions laser et d'accordabilité en longueur d'onde à l'aide de l'effet de rétroaction distribuée, sont mesurées.Enfin, la comparaison des mesures de caractérisation des matériaux en couches minces et des performances système en régime laser intégré, permet l'identification des paramètres agissant sur ces dernières. Notamment, la présence d'une forte absorption résiduelle dans la bande de fluorescence diminue l'efficacité laser des échantillons, et une bonne conduction thermique dans le matériau permet d'augmenter sa durée de vie en régime laser en limitant la thermodégradation des molécules de colorant. Des compromis sont, de plus, à faire pour la rigidité de la matrice, qui augmente le gain, mais aussi les pertes de propagation dans les matériaux.
Fichier principal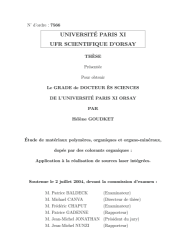 tel-000065771.pdf (3.53 Mo)
Télécharger le fichier
tel-00006577.pdf (2.12 Mo)
Télécharger le fichier