Lévy Processes in Finance: Inverse Problems and Dependence Modelling
Processus de Lévy en Finance : Problèmes Inverses et Modélisation de Dépendance
This thesis deals with the modelling of stock prices by the exponentials of Lévy processes. In the first part we develop a non-parametric method allowing to calibrate exponential Lévy models, that is, to reconstruct such models from the prices of market-quoted options. We study the stability and convergence properties of this calibration method, describe its numerical implementation and give examples of its use. Our approach is first to reformulate the calibration problem as that of finding a risk-neutral exponential Lévy model that reproduces the option prices with the best possible precision and has the smallest relative entropy with respect to a given prior process, and then to solve this problem via the regularization methodology, used in the theory of ill-posed inverse problems. Applying this calibration method to the empirical data sets of index options allows us to study some properties of Lévy measures, implied by market prices.

The second part of this thesis proposes a method allowing to characterize the dependence structures among the components of a multidimensional Lévy process and to construct multidimensional exponential Lévy models. This is done by introducing the notion of Lévy copula, which can be seen as an analog for Lévy processes of the notion of copula, used in statistics to model dependence between real-valued random variables. We give examples of parametric families of Lévy copulas and develop a method for simulating multidimensional Lévy processes with dependence given by a Lévy copula.
Cette thèse traite de la modélisation de prix boursiers par les exponentielles de processus de Lévy. La première partie développe une méthode non-paramétrique stable de calibration de modèles exponentielle-Lévy, c'est-à-dire de reconstruction de ces modèles à partir des prix d'options cotées sur un marché financier. J'étudie les propriétés de convergence et de stabilité de cette méthode de calibration, décris sa réalisation numérique et donne des exemples de son utilisation. L'approche adoptée ici consiste à reformuler le problème de calibration comme celui de trouver un modèle exponentielle-Lévy risque-neutre qui reproduit les prix d'options cotées avec la plus grande précision possible et qui a l'entropie relative minimale par rapport à un processus "a priori" donné. Ce problème est alors résolu en utilisant la méthode de régularisation, provenant de la théorie de problèmes inverses mal posés. L'application de ma méthode de calibration aux données empiriques de prix d'options sur indice permet d'étudier certaines propriétés des mesures de Lévy implicites qui correspondent aux prix de marché.

La deuxième partie est consacrée au développement d'une méthode permettant de caractériser les structures de dépendance entre les composantes d'un processus de Lévy multidimensionnel et de construire des modèles exponentielle-Lévy multidimensionnels. Cet objectif est atteint grâce à l'introduction de la notion de copule de Lévy, qui peut être considérée comme l'analogue pour les processus de Lévy de la notion de copule, utilisée en statistique pour modéliser la dépendance entre les variables aléatoires réelles. Les exemples de familles paramétriques de copules de Lévy sont donnés et une méthode de simulation de processus de Lévy multidimensionnels, dont la structure de dépendance est décrite par une copule de Lévy, est proposée.
Fichier principal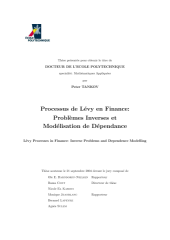 tel-000079441.pdf (1.81 Mo)
Télécharger le fichier
tel-00007944.pdf (1.53 Mo)
Télécharger le fichier