High resolution methods for estimating and tracking modulated sinusoids. Application to music signals.
Méthodes à haute résolution pour l'estimation et le suivi de sinusoïdes modulées. Application aux signaux de musique
In the field of speech and music signals analysis, the tonal part of a broad variety of sounds is often represented as a sum of sinusoids with slowly varying parameters. The Fourier transform remains a prominent tool for estimating the parameters of this model. This is due to its robustness and to the existence of fast algorithms. However, its spectral resolution is bounded. High Resolution (HR) methods are conversely not constrained by this limit, since they rely on a particular structure of the signal model. Nevertheless, they are seldom used in the field of audio signal processing, mainly because of their high computational cost. The reduction of this complexity is one of the major contributions of this thesis. To track the temporal variations of the parameters, fast subspace tracking algorithms (referred to as FAPI, YAST and SWASVD) and an adaptive version of the ESPRIT method are developed. Their application to audio signals is not straightforward : the number of sinusoidal components is unknown and the nature and the variety of these signals lead to specific difficulties. Preprocessings are developed to ensure the robustness of the HR analysis, and a new model order selection method is proposed. Lastly, a part of the document is devoted to the estimation of mixtures of complex exponentials modulated by polynomials, resulting from the presence of multiple poles. This study leads to the development of a generalized version of the ESPRIT method and to the statistical analysis of its performance.
Dans le cadre du traitement de la parole et des signaux de musique, la partie tonale d'une grande variété de sons est souvent représentée comme une somme de sinusoïdes à paramètres lentement variables. La transformée de Fourier reste un outil privilégié pour estimer les paramètres de ce modèle. Cela est dû à sa robustesse et à l'existence d'algorithmes rapides. En revanche, elle présente une résolution fréquentielle limitée. Les méthodes d'analyse spectrale à Haute Résolution (HR) s'affranchissent de cette limite en exploitant la structure particulière du modèle de signal. Elles restent cependant peu utilisées dans le cadre du traitement du signal audio, notamment en raison de leur coût de calcul élevé. La réduction de cette complexité est l'une des principales contributions de cette thèse. Afin de suivre les variations temporelles des paramètres, des algorithmes rapides de poursuite de sous-espaces (baptisés FAPI, YAST et SWASVD), ainsi qu'une version adaptative de la méthode ESPRIT sont développés. Leur application à des signaux audio n'est pas immédiate, en raison du nombre de composantes sinusoïdales inconnu a priori, et de difficultés inhérentes à la nature et à la variété de ces signaux. Des prétraitements spécifiques sont mis au point afin d'assurer la robustesse de l'analyse HR, et une méthode originale de sélection de l'ordre de modélisation est proposée. Enfin, une partie du document est consacrée à l'estimation de mélanges d'exponentielles complexes modulées par des polynômes, qui résultent de la présence de pôles multiples. Cette étude débouche sur le développement d'une version généralisée de la méthode ESPRIT et sur l'analyse statistique de ses performances.
Fichier principal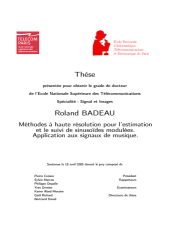 tel-000093211.pdf (5.28 Mo)
Télécharger le fichier
tel-00009321.pdf (5.15 Mo)
Télécharger le fichier