PHASE NOISE CORRELATION OF BRAGG GRATING LASERS BY OPTICAL INJECTION. APPLICATION TO GENERATION AND TRANSPORT ON FIBER OF RADIO-FREQUENCY SIGNALS.
Corrélation du bruit de phase de lasers à réseau de Bragg par injection optique. Application à la génération et au transport sur fibre de signaux radiofréquence
Mixing of two laser beams on a photo-detector is a way to generate radiofrequency signals up to THz band. By correlation of both optical sources, this signal can reach the required spectral purity for radio-over-fiber communications systems. Our work deals with the method of correlation by optical locking on a frequency comb. Injection locking is used to transfer the phase noise of a reference master laser to a slave laser. Using two harmonics line of a frequency modulated laser as two distinct master sources, the phase noises of both slave lasers are correlated and the frequencies difference become a multiple of the primary frequency. We have realized a general theoretical study of the injection into semi-conductor laser with complex cavity, in particular distributed feedback lasers, showing in particular the geometrical asymmetry of the noise properties. The correlation degree between the lasers has been analytically linked to the injection parameters and the phase noise characteristics. Measurements concerning interferences fringes contrast and heterodyne photocurrent spectrum have confirmed the expression. The temporal beating phenomenon has been compared with Fourier optics and speckle. Spectral purity of the beat-note has been studied and fundamental limits of this technique derived in function of the quality of the primary oscillator, the spectral proprieties of the lasers, the parameters of injection and fiber transportation. Phase noise measurements on the experimentally generated radio-frequency signal, for different conditions of injection, are in good agreement with analytical expressions.
Le mélange de deux faisceaux laser sur un photo-détecteur permet de générer un signal radiofréquence jusqu'au THz. Par corrélation des deux sources optiques, le signal obtenu peut acquérir la pureté spectrale requise pour les réseaux de communications radio sur fibre. Notre travail porte sur la méthode de corrélation par accrochage optique sur un peigne de fréquences. L'injection optique permet de transférer le bruit de phase d'un laser maître, pris comme référence, à un laser esclave. En utilisant deux harmoniques d'un laser modulé en fréquence comme sources distinctes d'injection, les bruits de phase des deux lasers esclaves sont corrélés et la différence de fréquences est multiple de la fréquence primaire. Nous avons réalisé une étude théorique générale de l'injection dans les lasers semi-conducteur à cavité complexe, en particulier les lasers DFB, en mettant notamment en évidence l'asymétrie géométrique du bruit. Nous avons relié théoriquement le degré de corrélation entre les deux lasers aux paramètres d'injection et au bruit de phase. L'expression a été confirmée par des mesures sur le contraste de franges d'interférences et le spectre du photo-courant hétérodyne. Ces battements temporels ont été mis en regard avec l'optique de Fourier et le speckle. Nous avons étudié la pureté spectrale du battement et établi les limites fondamentales de cette technique en fonction de la qualité de l'oscillateur primaire, des propriétés spectrales des lasers, des paramètres d'injection et de transport sur fibre. Les mesures de bruit de phase sur le signal généré expérimentalement, pour différentes conditions d'injection, sont en très bon accord avec les expressions analytiques.
Fichier principal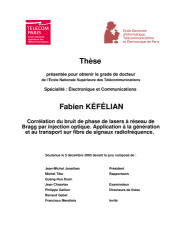 thesefabienkefelianvf.pdf (5.6 Mo)
Télécharger le fichier
thesefabienkefelian.pdf (5.46 Mo)
Télécharger le fichier