Les gares françaises et japonaises, halle et bâtiment principal - Une recherche comparative. 2 vol.
Historical and architectural comparative study about French and Japanese railways stations.
La planification en France du plan standard en forme d' « U » sera transformée en celle de « L » afin de s'adapter à un nouveau système d'embarquement alors que les ingénieurs japonais, s'intéressent à l'agencement des fonctions. Pour les façades des gares l'expression moderniste s'articule autour du style néoclassique en France tandis qu'au Japon les éléments occidentaux et japonais se mêlent sur une composition d'inspiration occidentale. Les halles métalliques conçues en France suivent le principe de l'élégance et de la légèreté. Quant au Japon, l'abolition de la halle provient d'un choix délibéré des ingénieurs qui connaissent les défauts fonctionnels mais aussi du fait de la pénurie du fer. L'utilisation de la charpente à grande portée est limitée aux cours intérieures des bâtiments publics. Les architectes se préoccupent de l'acquisition de l'architecture classique. La séparation spatiale entre le bâtiment principal et la halle s'accentue nettement dans les gares japonaises.
Fichier principal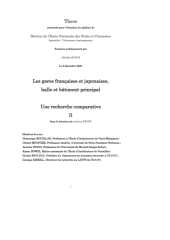 these_vol2.pdf (17.22 Mo)
Télécharger le fichier
Bibliographie.pdf (258.36 Ko)
Télécharger le fichier
these_vol1.pdf (24.05 Mo)
Télécharger le fichier