Modelling atmospheric dispersion of mercury, lead and cadmium at european scale.
Modélisation de la dispersion atmosphérique du mercure, du plomb et du cadmium à l'échelle européenne.
Lead, mercury and cadmium are identified as the most worrying heavy metals within the framework of the long range air pollution. Understanding and modeling their transport and fate allow for making effective decisions in order to reduce their impact on people and their environment. The first two parts of this thesis relate to the modeling of these trace pollutants for the impact study at the European scale. While mercury is mainly present under gaseous form and likely to chemically react, the other heavy metals are primarily carried by the fine particles and considered as inert. The third part of this thesis presents a methodological development based on an adjoint approach. It has been used to perform a sensitivity analysis of the model and to carry out inverse modeling to improve boundary conditions which are crucial with a restricted area model.
Le plomb, le mercure et le cadmium sont les métaux lourds identifiés comme les plus préoccupants dans le cadre de la pollution atmosphérique à longue distance. Comprendre et modéliser leur comportement permet la prise de décision efficace pour réduire leur impact sur l'homme et son environnement. Les deux premières parties de cette thèse portent sur la modélisation de ces polluants trace en vue de l'étude d'impact à l'échelle européenne. Le mercure en étant principalement présent sous forme gazeuse et susceptible d'interagir chimiquement se distingue des autres métaux lourds essentiellement portés par les particules fines et considérés comme inertes. La troisième partie de cette thèse présente un développement méthodologique basé sur l'utilisation d'une approche adjointe permettant de quantifier les sensibilités du modèle développé aux différents forçages utilisés mais également d'affiner ceux-ci par modélisation inverse.
Fichier principal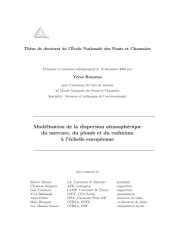 these.pdf (5.44 Mo)
Télécharger le fichier
soutenance.pdf (2.7 Mo)
Télécharger le fichier