Development of design tools for multiphase permanent magnet machines.
Method based on the multi-machine approach.
Développement d'outils de conception de Machines polyphasées à aimants utilisant l'Approche multimachine.
This thesis tackles with the development of design tools dedicated to Permanent Magnet multiphase machines with smooth airgap supplied by Pulse Width Modulation Voltage Source Inverter. Based on the multi-machine decomposition that splits the multiphase machine into several fictitious machines that are magnetically uncoupled and mechanically coupled, the chosen method consists in studying the converter-machine adaptation by putting the design goals on the fictitious machines. A matrix representation of the multiphase winding, the evelopment of analytical field calculation method and the use of the Discrete Fourier Transform operator allow to define for each fictitious machine a winding and a magnet layer. Thereby the goals and the constraints related to parasitic current reduction and torque quality improvement can be directly formulated on the fictitious quantities, which allows to deduce optimised design approach.
Cette thèse a pour objet le développement d'outils de conception de machines polyphasées à pôles lisses alimentées par onduleur de tension à modulation de largeur d'impulsion. Basée sur la décomposition multimachine de la machine polyphasée en une somme de machines fictives magnétiquement découplées et mécaniquement couplées, l'approche adoptée consiste à étudier le problème de l'adaptation convertisseur-machine en reportant les objectifs sur les machines fictives. Une représentation matricielle du bobinage polyphasé, le développement d'un modèle de calcul analytique du champ et l'introduction de la Transformée de Fourier Discrète permettent d'associer aux machines fictives un bobinage et une couche d'aimants. Les objectifs et contraintes liés à la réduction des courants arasites et à l'amélioration de la qualité du couple peuvent alors être formulés directement sur des grandeurs fictives, ce qui permet de déduire des démarches de conception optimale.
Fichier principal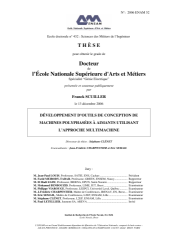 TheseFranckScuiller.pdf (4.78 Mo)
Télécharger le fichier
SoutenanceFranckScuiller.pdf (1.7 Mo)
Télécharger le fichier