J/psi suppression and elliptic flow in 200~GeV Au+Au collisions at the mid rapidity region of the PHENIX experiment
Suppression et flot elliptique du J/psi dans les collisions Au+Au à 200~GeV dans la région à mi-rapidité de l'expérience PHENIX.
J/psi are considered to be one of the key probes of the Quark Gluon Plasma (QGP) formation in heavy ion collisions. Color screening was proposed as a mechanism leading to anomalous suppression beyond normal absorption in nuclear matter if J/psi were created in a deconfined medium, providing a direct evidence of deconfinement. The PHENIX detector is one of the four experiments that were installed at RHIC, with a design that is optimal for the measurement of the J/psi meson at forward rapidity in the dimuon decay channel, and at mid rapidity in the dielectron decay channel. The work presented here covers the analysis of data taken by the mid rapidity spectrometers of PHENIX in Au+Au collisions at 200 GeV. The nuclear modification factor is measured as a function of centrality, and compared to estimations of cold nuclear matter suppression. Though the suppression seen in the most central collisions goes up to a factor of more than three, most of it can possibly be accounted for by cold nuclear effects, and the significance of the extra anomalous suppression is small. Comparisons to the CERN SPS results and to the suppression measurement at forward rapidity in PHENIX have led to the speculation that regeneration, a J/psi production mechanism by association of uncorrelated c and c-bar quarks, might be at play in central heavy ion collisions. A second measurement presented in this thesis, the elliptic flow of J/psi as a function of pT, is a potential tool to test the regeneration scenario. Though lack of statistics hinders the establishment of firm conclusions, the result is a good proof of principle of the feasibility of the measurement in a high multiplicity environment.
Le méson J/psi est considéré comme une sonde privilégiée de la formation du Plasma de Quarks et de Gluons (PQG) lors des collisions d'ions lourds. L'écrantage de la force de couleur a été proposé comme mécanisme de suppression anormale du J/psi dans un milieu déconfiné, au-delà de la suppression normale dans la matière nucléaire ordinaire. Le détecteur PHENIX est, des quatre expériences qui furent installées au démarrage de l'accélérateur RHIC, celle qui a une conception optimale pour la mesure du J/psi : dans les canaux de décroissance en dimuon à rapidité vers l'avant, et en dielectron à mi-rapidié. Le travail présenté ici couvre l'analyse de données prises par les spectromètres à mi-rapidité de PHENIX en collisions Au+Au à 200~GeV. Le facteur de modification nucléaire est mesuré en fonction de la centralité, et ensuite comparé à des estimations de la suppression due à la matière nucléaire froide. Malgré le fait que la suppression observée dans les collisions les plus centrales atteint un facteur plus grand que trois, une majeure partie peut être attribuée aux effets nucléaires froids. D'autre part, la comparaison avec les résultats des mesures effectuées au SPS du CERN et vers l'avant dans PHENIX a conduit à la spéculation que la régénération, un mécanisme de production des J/psi par association de quarks c et c-bar non corrélés, pourrait jouer un rôle important dans les collisions d'ion lourds les plus centraux. Le flot elliptique du J/psi en fonction de pT, une autre mesure présentée dans ce travail, est un outil potentiel pour tester le scénario de la régénération. Malgré l'obstacle statistique, la mesure est une démonstration de la faisabilité d'une mesure du flot elliptique dans un environnement à haute multiplicité.
Fichier principal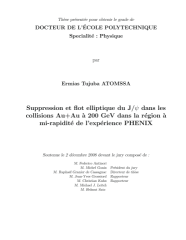 thesis_ermias_t_atomssa.pdf (5.19 Mo)
Télécharger le fichier
Defence.2008.12.02.ErmiasAtomssa.pdf (2.86 Mo)
Télécharger le fichier