Organo-aluminate interaction in cement. Intercalation of polymethacrylate-g-PEO into hycrocalumite.
Interactions organo-aluminates dans les ciments. Intercalation de polyméthacrylate-g-PEO dans l'hydrocalumite.
Superplasticizers are used for cement hydration in order to increase the workability. Part of the SP is immobilized in one of the first hydrated phase: the OH-AFm phase, coming from the hydration of C3A. The OH-AFm phase is a lamellar double hydroxide presenting positively charged layers. The interlayer space then contains anionic species. The SP we are working with are polymethacrylates graft PEO polymers which are negatively charged and can thus interact with the AFm phase. In this work we focus on the interactions between the OH-AFm phases and these SP, varying the grafting ratio and the graft chains length of the polymers. We established the intercalation of SP in the AFm phase by XRD and NMR. The SP conformation between the layers can be described from the adaptation of the blobs model, which describes the polymers in solution. This model in solution was validated by the measurement of radius of gyration of polymers from SANS curves. We followed the speed of polymer sorption, performed isotherms of SP adsorption and studied the stability of the composite in presence of sulfates anions. Whatever their graft chains length and their grafting ratio, the time necessary for the polymers to be adsorbed is the same. At the maximum of the isotherms, the compensation of the positive charge of the mineral layer increases with the charge density of the polymer. And finally, if the SP-AFm phase is more stable than the OH-AFm phase, it appears that, in presence of sulphates, the polymer is released after several hours in solution and the monosulfoaluminate is formed. C3A hydration in presence of polymer leads to the formation of a compound having a similar structure than the SP-AFm phases synthesized by coprecipitation. We can thus expect the same kind of SP-AFm interaction in both compounds.
L'ajout de superplastifiants (SP) dans les ciments est utilisé pour améliorer la mise en œuvre du matériau. Les SP que nous étudions sont des polyélectrolytes anioniques, et plus précisément des polyméthacrylates greffés PEO. Il a été observé qu'une partie de ces SP est immobilisée dans une des premières phases résultant de l'hydratation du ciment : la phase OH-AFm, issue de l'hydratation de l'aluminate tricalcique (C3A). Ces phases appartiennent aux hydroxydes doubles lamellaires dont les feuillets sont chargés positivement et l'espace interfoliaire contient des espèces anioniques. Nous nous intéressons, à l'interaction entre les phases OH-AFm et ces SP, dont la longueur des greffons et le taux de greffage varient. Nous avons prouvé l'intercalation des SP par DRX et RMN dans la phase AFm. La conformation des SP entre les feuillets peut être décrite à partir de l'adaptation d'un modèle de conformation en solution sous forme de chaînes de blobs, élaboré par de Gennes. Des mesures de rayon de giration des polymères en solution saturée en calcium, par diffusion de neutrons aux petits angles, ont permis de valider le modèle des blobs en solution. Nous avons suivi la vitesse de sorption des SP, réalisé des isothermes et étudié la stabilité de la phase SP-AFm vis-à-vis des sulfates, présents en quantité dans les ciments. Indépendamment de leurs caractéristiques, les SP sont fixés à la même vitesse par la phase AFm. Au maximum des isothermes, un SP compense d'autant mieux les charges du feuillet que sa densité de charge est élevée. La phase SP-AFm est plus stable que la phase OH-AFm, mais la présence de sulfates entraîne une libération retardée sur plusieurs heures du SP en solution. L'hydratation du C3A en présence de polymère mène à une structure similaire à celle des phases modèles que nous avons étudiées et les interactions SP-AFm peuvent donc être considérées comme identiques.
Fichier principal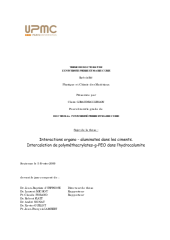 CGiraudeau-MANUSCRIT.pdf (6.27 Mo)
Télécharger le fichier
Soutenance-CGiraudeau.pdf (4.09 Mo)
Télécharger le fichier