The professional dynamics of the service encounter. An inquiry into RATP's approach to fare evasion.
Les dynamiques professionnelles de la relation de service. Le cas de la fraude sur le réseau de surface de la RATP.
How is "made" the service encounter? To tackle this issue management science has hardly studied, we focus on the "internal" elaboration of the relationship of an organization to its service users. For that purpose, we use the conceptual framework of professional dynamics, defined as the interplay of different collective actors trying to solve a problem. At the occasion of an ethnographic and clinic research within RATP, we precisely observe the evolutions of the treatment of a recurrent problem for public surface transportation: fare evasion. We use two complementary methods to describe the professional dynamics of fare evasion fighting. On the one hand, a historical approach stresses the plasticity of the "fraud" problem and also shows the organizing of its treatment through the 20th century. On the other hand, the analysis of the "Bus Attitude" project, expected to transform the service encounter and the controllers' activity, reveals the opposition between different conceptions of fare evasion fighting. The description underlines the decisive role of the artefacts of fare evasion treatment (especially indicators): they enclose staff and controllers in a repressive understanding of the problem. We call the situation "ontological trapdoor". As an answer to this cognitive constraint, we propose to consider the instrumentalization of the professional dynamics. We retrospectively analyze the progression within RATP of a schematic representation of these dynamics, which was produced for the control staff during the research. Such a use of the conceptual framework favours the actors' reflexivity regarding what they consider to be a "good way" to deal with the fare evasion issue. We finally suggest articulating the description and the representation of professional dynamics, through a collective inquiry. The goal is to enable the actors to pilot the organizing of the service encounter - that is to say to grasp and influence its process of elaboration.
Comment " fabrique-t-on " la relation de service ? Pour répondre à cette question peu traitée en gestion, nous cherchons à saisir l'élaboration " en interne " de la relation d'une organisation de service à ses usagers. Nous mobilisons dans ce but le cadre conceptuel des dynamiques professionnelles, que nous définissons comme le jeu de différents collectifs d'acteurs concernés par la résolution d'un problème. Nous observons en l'occurrence les évolutions du traitement d'un problème récurrent dans les transports en commun de surface, la fraude, dans le cadre d'une recherche clinique de type ethnographique menée à la RATP. Nous décrivons les dynamiques professionnelles de la lutte contre la fraude selon deux méthodes complémentaires. Une approche historique montre d'une part la plasticité du problème " fraude " et décrit l'organisation progressive de son traitement au 20ème siècle. L'analyse du projet " Bus Attitude ", modifiant à la fois la relation de service et l'activité des contrôleurs, révèle d'autre part les oppositions entre différentes conceptions de la lutte contre la fraude. La description souligne le rôle prépondérant des artefacts du traitement de la fraude (indicateurs notamment), qui enferment les contrôleurs et leur encadrement dans une compréhension répressive du problème. Nous qualifions cette situation de trappe ontologique. En réponse à cette contrainte d'ordre cognitif, nous proposons une réflexion sur l'instrumentalisation des dynamiques professionnelles. Nous analysons rétrospectivement le parcours dans l'entreprise d'une représentation schématique de celles-ci, produite au cours de la recherche à destination de l'encadrement du contrôle. Cet usage du cadre conceptuel favorise une réflexivité accrue des acteurs quant à leur conception de la " bonne " lutte contre la fraude. Nous proposons finalement une mise en tension de la description et de la représentation des dynamiques professionnelles, dans le cadre d'une enquête collective. Il s'agit pour les acteurs de piloter l'organisation de la relation de service, ce pilotage devant leur permettre de ressaisir et d'infléchir le processus d'élaboration de cette relation.
Fichier principal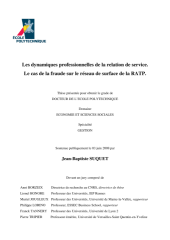 These_-_Les_dynamiques_professionnelles_de_la_relation_de_service.pdf (2.28 Mo)
Télécharger le fichier
Annexes_-_dynamiques_professionnelles_de_la_relation_de_service.pdf (3.19 Mo)
Télécharger le fichier