Coopération transfrontalière et services urbains en réseaux dans la région de Genève
This study analyzes the modalities of creation and treatment of cross-national boundary interconnexion projects regarding urban services organized as networks. The author uses a comparative approach dealing with several public services (mass transit, sewage and waste disposal) in the Geneva urban area (including the French communes). Further than its legal definition, the border is herein considered within the spatial limit of the administrative and political systems legitimacy. First, the author considered the genesis of interconnexion needs as the outcome of a mismatch between the socio technic modes of production, territorialy segmented, on one hand, and the evolution of the franco-genevese urban system on the other. Second, the author focuses on the existing modes of regulation. Thus, two modes of regulation are distinguished. The first one deals with the technical elements of urban services ; the second one with the territorial and institutional framework within which these local services are planed and administred. The study then shows that the technical adaptability of urban services to a new environment exists. However, without a legal, technical and institutional framework, the cross-national boundary interconnexion of these services is dependent upon a system of actors based on conflicting codes, different socio-technical standards which are the focus of a power relationship. The system of collective action rests upon the control of the interconnexion of urban networks considered as the instruments of legitimacy at the level of a cross-boundary territory, determined by their spatial setting.
Ce travail vise à analyser les conditions d'émergence et de traitement des projets d'interconnexion transfrontalière de services techniques urbains organisés en réseaux à travers une démarche comparative prenant en compte plusieurs de ces services publics (transports publics, assainissement et ordures ménagères) dans l'agglomération constituée par Genève et les communes françaises voisines. Au-delà de sa définition juridique, la frontière est ici envisagée comme la limite spatiale de légitimité de systèmes politiques et administratifs. Après avoir appréhendé la genèse des besoins d'interconnexion comme le résultat du décalage entre des modes de production socio-techniques territorialement cloisonnés et l'évolution du système urbain franco-genevois, l'accent est porté sur les modes de régulation mis en oeuvre. On distingue ainsi un mode de régulation portant sur les éléments techniques des services urbains et un mode de régulation affectant le cadre institutionnel et territorial dans lequel ces services publics locaux en réseaux sont gérés et planifiés. Il en ressort que les capacités d'adaptation technique des services urbains en réseaux à un nouvel environnement territorial sont réelles. Cependant, en l'absence de cadre juridique, technique et institutionnel, l'interconnexion transfrontalière de ces équipements collectifs est soumise à la constitution d'un système d'acteurs reposant sur la confrontation de différents codes, de différentes normes socio-techniques et sanctionne un rapport de forces. Le système d'action collective porte sur la maîtrise de l'interconnexion des réseaux techniques urbains qui sont envisagés comme des outils de légitimation à l'échelle d'un territoire transfrontalier déterminé sur la base de leur inscription spatiale.
Fichier principal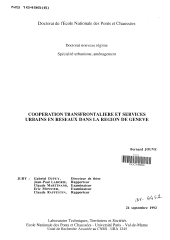 1992TH_JOUVE_B_NS16496.pdf (20.63 Mo)
Télécharger le fichier
Origin : Files produced by the author(s)