Le développement de l'assainissement par dépression : un réseau urbain retrouvé
From the end of the 19th century to 1934, a few vacuum sewage collecting systems were tested in the Netherlands and in France. But it took more than 30 years before a new vacuum system was perfected in Sweden. It has taken another 10 years to reach adéquat development in France and to gain more acceptance by engineers and organizations concerned with the collection and disposal of sewage. The purpose of this research is to understand the development process of vacuum sewerage inovation in France, historicaly rejected and adopted nowadays. It is beyond question that the gravity sewer standardization process, started last century and achieved in 1949 with the diffusion of Caquot instruction, has doomed to failure the first collection sewer by means of barometric depression. Meanwhile, in recent years, it appeared that many situations could not be solved by either of the traditionnal options (septic tank / gravity sewer). The attemps to apply either technology in these situations have been unsatisfactory to all involved. Vacuum collection has thus emerged as a viable solution under economic and environmental constraints. Moreover, the vacuum sewer firms and adopter categories study show changes in all the sewer system organization.
Les trois étapes distinctes de la diffusion en France des réseaux d'assainissement par dépression, c'est-à-dire leur émergence à la fin du XIXème siècle, l'absence totale de nouvelles installations entre 1935 et 1970, enfin leur réapparition dans les années 1970, coïncident avec trois événements clefs dans l'histoire de l'assainissement : la révolution pastorienne qui fait du microbe le premier acteur de l'assainissement ; la normalisation progressive du tout-à-1'égout gravitaire, officialisée avec la mise au point de la circulaire Caquot en 1949 ; et, dans les années 1970, le passage obligé de nonnes de procédés à des normes de résultats. L'étude de la diffusion de cette innovation consiste alors à montrer pourquoi une technique bannie a retrouvé aujourd'hui un nouveau droit de cité. L'analyse historique des facteurs qui ont présidé à la marginalité des premiers procédés pneumatiques révèle que la normalisation du gravitaire a eu une portée plus importante qu'une simple réglementation des tracés et des dimensionnements des conduites. Cependant, le contexte actuel de l'assainissement en France apparaît favorable au développement du réseau sous vide. Le réseau à dépression, comme système de desserte territoriale apparaît d'ailleurs comme un système d'avenir, là même où le gravitaire ne peut être installé facilement. Enfin, le jeu des acteurs industriels promoteurs du pneumatique traduit une succession d'adaptations subies et/ou "initiées" par l'ensemble des acteurs de l'assainissement. Le développement actuel du réseau par dépression ne remet pas en cause les performances des techniques traditionnelles. Il correspond plutôt à l'apparition de nouveaux besoins et de nouvelles exigences, que les procédés gravitaires et autonomes ne peuvent pas entièrement satisfaire.
Fichier principal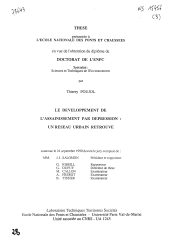 1990TH_POUJOL_T_NS15456.pdf (17.6 Mo)
Télécharger le fichier
Origin : Files produced by the author(s)