Mise au point d'un modèle hydrologique conceptuel intégrant l'état hydrique du sol dans la modélisation pluie-débit
Conceptual hydrological modelling fails in describing the temporal evolution of soil hydric state by the use of classic methods of soil moisture measurement. It is well known that soil hydrodynamic behaviour is highly heterogeneous in the catchment. New remote sensed techniques of measurements can provide information about the spatial variability of this data. Actual conceptual models use an index that represents the soil water content. This approach is not adapted to the use of remotely sensed data. The aim of this research is to develop a software which can estimate the soil hydric state evolution and simulate basin outflows. Thus, we wall be able to use the remotely sensed data. This study is based on two existing tools. The first is the hydrologie conceptual model GR3J which is used to simulate the runoff. The second is the physically based two layers model, issued from the "Deardorffs schema", and which is used to estimate the moisture evolution of the two soil layers. These models were calibrated apart using data from basins of different hydrodynamic and morphological characteristics. The final model is obtained by a combination of the two previous models and can provide the capacity of each of them. This study have been done on the Orgeval's catchment. The final model have been successfully validated on the Brittany region (France) where the ERS-1 project is situated. The model can run with two functional modes depending on the soil moisture data availability (simulation and assimilation).
L'importance de i'état initial des bassins versants, et surtout de l'état hydrique du sol, dans la formation des débits est reconnue depuis longtemps. La connaissance précise de cet état hydrique et de sa prise en compte dans la modélisation Pluie-Débit reste cependant un des problèmes actuels de l'hydrologie. Aux mesures in situ, trop ponctuelles et difficilement généralisables. viennent s'ajouter de nouvelles techniques de télédétection pouvant fournir une information "tout temps" et spatialisée de l'état de surface des bassins versants. L'objectif de cette thèse est de mettre au point un modèle hydrologique conceptuel Pluie-Débit, capable de prendre en compte l'état hydrique des sols. Deux outils de base ont été utilisés : - Le modèle conceptuel GR3J (puis GR4J) pour la simulation des débits. - Le modèle physique bi-couches inspiré du "Schéma de De ardorjf pour le suivi de l'humidité des deux couches de sol, superficielle et racinaire. De nombreux schémas de couplage ont été testés en s'appuyant sur les données du BVRE de l'Orgeval, où existent des séries de données de pluie, de débit et d'humidité du sol. Le modèle retenu, "GRHUM", a une fonction de production dérivée du schéma de Deardorff et a conservé la fonction de transfert de GR4J. C'est un modèle à six paramètres, simulant les débits journaliers et l'humidité de deux couches de sol. Le modèle a été validé sur le BVRE de Naizin et sur 35 autres bassins versants situés en Bretagne. Les résultats obtenus montrent les bonnes aptitudes du modèle à simuler ¡es débits et l'humidité de la couche de sol racmaire. La prise en compte de l'occupation réelle du sol. à partir de cartes de cultures et accessible par télédétection, améliore la simulation des humidités de surface. Le fonctionnement de ce modèle peut être réalisé en deux modes : "simulation " lorsque les données d'humidité du sol ne sont pas disponibles et "assimilation" lorsque ces données sont présentes. Le modèle "GRHUM" ouvre des perspectives nouvelles pour l'utilisation de l'état hydrique du sol détermine à partir de données satellitaires (radar. IRT") dans la prévision des débits.
Fichier principal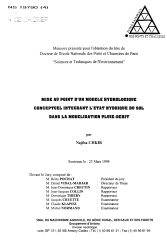 1994TH_CHKIR_N_NS19790.pdf (15.96 Mo)
Télécharger le fichier
Origin : Files produced by the author(s)