Méthodes de vérification de bases de connaissances
In this work, we present our approach for automatic checking of rule based systems. Atfer an overview of the related works, this report consists of two distincts parts. The first one deals with the consistency of rules in Knowledge Bases (KB) using the attribute-value formalism with forward chaining. We present the MELOMIDIA system, a consistency checker looking for the specifications of Initial Fact Bases (IFB) such that the deductive closure of IFB and the rule base contains contradictory facts. In the same process, MELOMIDIA also detects the redundant or unfireable rules of the KB. The second one considers the problem of verification of first-order Rule Bases (RB). Our approach consists of matching two kinds of knowledge: on one hand, the KB to be studied, on the other hand, specifications of properties of some predicates used in the KB. This latter core of knowledge is some kind of implicit knowledge, which must be acquired from the KB designer. This is made possible through a descriptive model of predicate we designed for this task. Going further, this model allows us to tackle some methodological aspects of the development of KB Systems.
Nous présentons dans cette thèse les travaux réalisés concernant la vérification automatique de Bases de Connaissances de Systèmes Experts. Cette étude comporte un panorama des systèmes existants, puis deux parties indépendantes. La première traite de la Cohérence de bases de règles d'ordre Zéro Plus. Nous présentons le système MELOMIDIA, qui fournit, quand elles existent, les bases de faits initiales conduisant à des déductions contradictoires. Le système permet aussi d'améliorer l'exploitation de la base de règles analysée (élimination des règles inutiles, filtrage de la base de faits initiale), et de visualiser les contradictions qu'elle contient (traceur d'incohérences). La seconde concerne la vérification de bases de règles d'ordre Un. Elle consiste à s'assurer que la base respecte des spécifications exprimées sous la forme de propriétés attachées aux prédicats présents dans la base de règles. Ces propriétés sont fournies suivant un modèle qui distingue quatre niveaux de description des prédicats : les niveaux syntaxique, physique, mathématique et fonctionnel.
Fichier principal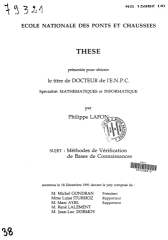 1991TH_LAFON_P_NS15982.pdf (18.45 Mo)
Télécharger le fichier
Origin : Files produced by the author(s)