Approche méthodologique de la mise en place d'un réseau multiservice
Methodological approach for the development and the implementation of a multiservice network (MSN). Urban technical functions integration permits the development of public services in a qualitative and quantitative way, as well as a better global efficiency of the local technical organisation, it is built on an information exchange between urban technical services implemented by a divided telecommunication network. Noting on one hand the French policy-makers potential interest in functions integration, and on the other hand the lack of successful projects involving divided networks, the objective of this thesis is to provide a global answer to the problem of implementing a divided network for the integration of urban technical functions. The knowledge of the general context in which any project of this kind is created helps to explain the obstacles that were mounted preventing the success of the initiatives recorded in six French cities (Besançon, Gardanne, Nîmes, Montpellier, Nancy and Paris). On one hand, these obstacles are due to the lack of reference, real or conceptual, related to the divided network and to integration. On the other hand, they are due to the difficulties of leading an innovating multi-actor project. In order to serve as a conceptual reference for future projects, a generic network model for functions integration is proposed : the "multiservice network". To be realistic, this model is based on an integration definition that responds to the aspirations of the urban management payers ("platform" and autonomy). In order to be used as a guideline for the project, and to take in account specifications of each city, a conception method is proposed to lead to the definition of characteristics of the local MSN ("MSN's Director Plan").
L'intégration des fonctions techniques urbaines permet d'envisager à la fois un développement qualitatif et quantitatif des prestations de services aux citadins, et une meilleure efficacité globale de l'organisation technique locale. Elle repose sur l'échange d'informations entre les services techniques grâce à un réseau de télécommunications partagé. Divers projets de mis en place de réseaux partagés ont existé en France à partir de 1987. Constatant d'une part l'intérêt présenté par l'intégration pour les politiques urbaines locales actuelles, et d'autre part le manque de réussite de ces initiatives, notre objectif dans ce travail est d'apporter une réponse globale au problème de la mise en place d'un réseau partagé pour l'intégration des fonctions techniques urbaines. Cela consiste à identifier les causes des problèmes et déterminer leurs remèdes. Nous avons recensés six collectivités locales (Besançon, Gardanne, Nîmes, Montpellier, Nancy et Paris) qui ont été le siège de tels projets. Grâce à la connaissance du contexte général dans lequel doit naître tout projet de ce type (Partie A), il est plus aisé d'expliquer les écueils mis en évidence comme s'étant opposés à la réussite des divers projets (Partie B). D'une part ces écueils tiennent au manque de référence, tant réelle que conceptuelle, relative au réseau partagé et à l'intégration, ils tiennent d'autre part à la difficile conduite d'un projet multi-acteur et innovant Proposé comme pouvant servir de référence conceptuelle à des projets futurs, un modèle générique de réseau pour l'intégration des fonctions est présenté. Le réseau multiservice - RMS - est une plate-forme télé-informatique intégrant des modules autonomes. Proposé comme pouvant servir de guide aux partenaires engagés dans la définition des caractéristiques d'un RMS spécifiquement local, (répondant au projet local d'intégration), une méthode de conception est présentée. Elle conduit à l'élaboration du Schéma Directeur du RMS.
Fichier principal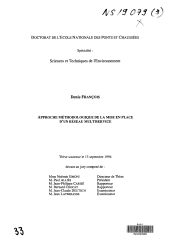 1994TH_FRANCOIS_D_NS19079.pdf (34.42 Mo)
Télécharger le fichier
Origin : Files produced by the author(s)