Etude du phénomène de l'expansion sulfatique dans les bétons : comportement des enrobés de déchets radioactifs sulfatés
Sulphate attack is one of the major degradation processes of concrete. It is especially important in storing cemented radioactive wastes containing sulphate. In this thesis, we have thoroughly investigated the degradation mechanisms of cemented radioactive wastes by sulphate. The CaO-Al2O3-SO3-H2O systems with and without alkalis are studied. For the system without alkalis, experimental results show that it is the formation of a secondary ettringite under external water supply by steric effect that causes the expansion. For the system with alkalis, the ettringite doesn't appear while a new mineral called "U", a sodium-substituted AFm phase is detected. This phase is shown to be responsible for the expansion and destruction of the specimens. The conditions for the formation, the product of solubility and many means of its synthesis are discussed, and a complete list of the inter-reticular distances file is given. The behaviour of the different types of cemented wastes containing sulphate are then studied with a special focus on the U phase on entity which was heretofore very little understood. The following three hypothetical mechanisms of sulphate expansion are proposed: the formation of the secondary U phase, the transformation of the U phase to the ettringite and the topochemical hydration of thenardite into mirabilite. Experiments on a simplified system have demonstrated clearly that the formation of the secondary U phase can induce enormous expansion by steric effect, this justifying the first assumption. Simulation by the mass and volume balances is carried out thereafter and enables us to estimate the expansion induced by the formation of the secondary U phase in the cemented wastes. The second assumption is also well verified by a series of leaching tests in different solutions on mixtures containing the U phase. On the basis of the analysis of the specimens under leaching, it has been assumed that the expansion is associated with the interparticulate electric repulsion of colloidal ettringite formed from the transformation of the phase U and in presence of the lime. The kinetics of the transformation process is analysed based upon the diffusion theory. The transformation from thenardite to mirabilite is not justified. In summary, the U phase can induce expansion mainly through two mechanisms which act individually or simultaneously: the formation of the secondary phase U and the transformation of the phase U to ettringite. This work constitutes the first step necessary for predicting the service life of the structures storing the cemented radioactive wastes.
Le problème d'attaque des bétons par sulfates demeure d'actualité dans le domaine du stockage des déchets radioactifs, parce que certains déchets contiennent des sulfates. Le présent rapport contribue à l'étude des mécanismes de dégradation des enrobés de déchets radioactifs par sulfate. Les systèmes expansifs CaO-Al2O3-SO3-H2O sans et avec alcalins ont été étudiés. Dans le système sans alcalins, c'est la formation de l'ettringite secondaire par apport d'eau externe qui conduit à l'expansion importante par effet stérique. Dans le système avec alcalins, les comportements d'expansion sont complètement différents. Un nouveau minéral baptisé "phase U", de type AFm incorporant du sodium, a été mis en évidence. Il semble être le responsable de l'expansion observée. Les conditions de formation, le produit de solubilité, les méthodes de synthèse et les distances interréticulaires de la phase U ont été discutés. Les différentes configurations des enrobés réels ont été ensuite étudiées, le comportement étant lié notamment à la phase U, très peu étudiée jusqu'à présent en milieu de ciment. Nous avons retenu comme mécanismes expansifs possibles soit la formation de la phase U secondaire, soit la transformation de la phase U en ettringite, soit la transformation de la thénardite en mirabilite. La première hypothèse a été validée sur un système simplifié, la modélisation de toutes les configurations des enrobés par les bilans massique et volumique nous permet de déterminer théoriquement la répartition massique des hydrates et d'estimer l'expansion par formation de la phase U secondaire. La deuxième hypothèse a été aussi parfaitement vérifiée : l'observation de l'expansion et l'analyse minéralogique des échantillons contenant la phase U et subissant la lixiviation dans différentes solutions nous permettent de supposer que l'expansion est provoquée par la répulsion électrique interparticulaire d'ettringite colloïdale, issue de la transformation de la phase U initiale et formée en présence de chaux. La cinétique de transformation de la phase U en ettringite a été suivie expérimentalement et analysée avec la théorie de la diffusion. La troisième hypothèse n'a pas été validée. En conclusion, la phase U peut provoquer une expansion par deux principaux mécanismes se manifestant individuellement ou simultanément : la formation de la phase U secondaire et la transformation de îa phase U en ettringite colloïdale en présence de chaux. Le présent travail constitue une première étape importante et nécessaire pour prédire la durabilité d'une structure du stockage de déchets radioactifs sulfatés.
Fichier principal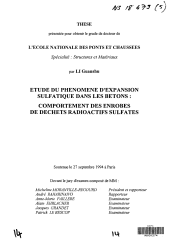 1994TH_LI_G_NS18479.pdf (21.17 Mo)
Télécharger le fichier
Origin : Files produced by the author(s)