Etude par modélisation de la commande optimale des systèmes de chauffage des bâtiments utilisant des chaudières à charbon
Heating systems using coal-fired boilers in buildings with discontinuous occupation have specific characteristics. The work presented here was focused on the study of the energy management of such systems. Two coal-fired boiler models were developed: a comprehensive model and a simplified model. The comprehensive model was developed so as to describe the dynamic behaviour of the boiler. The simplified model was developed in order to meet the control calculation needs. An optimal control structure based on the quadratic optimization principle was designed, improved and adapted to the intermittent heating system control. When supplemented with a self-adjusting method, this control can automatically correct the control errors either caused by the inaccuracy of the model used or resulting from other factors. Studying by simulation the optimal control as applied to coal-fired boiler heating systems has proved the efficiency and flexibility of this control; furthermore, the saving of energy made by this method, as compared with a stadard control, is important.
Les systèmes de chauffage utilisant des chaudières à charbon dans les bâtiments à occupation discontinue ont des caractéristiques particulières. Le travail présenté ici a pour objet l'étude de la gestion d'énergie de tels systèmes. Deux modèles de chaudière à charbon ont été développés : un modèle fin et un modèle simplifié. Le modèle fin a été élaboré dans le but de décrire le comportement dynamique de la chaudière. Le modèle simplifié a été développé pour répondre aux besoins du calcul de la commande. Une structure de commande optimale basée sur le principe d'optimisation quadratique a été étudiée, améliorée et adaptée au contrôle de systèmes de chauffage intermittent. En la complétant par une méthode d'auto-réglage, cette commande peut corriger automatiquement les erreurs de commande dues aux imprécisions du modèle utilisé ou à d'autres causes. Les études, par simulations, des applications de la commande optimale aux systèmes de chauffage à chaudière à charbon ont démontré l'efficacité et la souplesse de cette commande, ainsi qu'une économie énergétique importante par rapport à la commande classique.
Fichier principal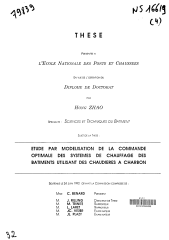 1992TH_ZHAO_H_NS16619.pdf (8.77 Mo)
Télécharger le fichier
Origin : Files produced by the author(s)