Modélisation du comportement d'un bicouche (élastique - viscoélastique) sous l'effet du retrait dans la couche viscoélastique
This paper presents a modelling of the bending of a reinforced double-layer floor. The first layer is made of a solid glass reinforced material with a linear elastic behaviour. The second layer is a PVC-based "plastic" layer whose behaviour is viscoelastic. The instability of the structure is caused by the shrinkage induced in the viscoelastic layer after manufacture. The model used is the Multiphasic Multilayer Material Model called "M4 model". It provides an alternate modelling of the multilayer structures respect to the two main currents, namely the two-dimensional and three-dimensional currents. An analytical solution including a reduced numerical cost is proposed. The behaviour of the viscoelastic layer is identified with a Zener model. The different characteristics of the model are determined based on the series of a simple experimental tests inspired by the actual behaviour of the material. The problem to be solved is therefore the evolution with the time of the geometry of this two-layer material (Elastic - Viscoelastic), as well as the influence of each parameter on this evolution.
Une modélisation de la courbure d'une dalle bicouche armée est présentée. La première couche est formée d'un matériau armé stable en voile de verre, à comportement élastique linéaire. La seconde est une couche en "matières plastiques" à base de FVC, dont le comportement est viscoélastique. L'instabilité de la structure est due au retrait induit dans la couche viscoélastique après la fabrication. Le modèle utilisé est le Modèle Multiphasique des Matériaux Multicouches appelé "modèle M4". Il propose une modélisation alternative des structures multicouches, par rapport aux deux grands courants, bidimensionnels et tridimensionnels. Une solution analytique, à coût numérique réduit, est proposée. Le comportement de la couche viscoélastique est identifié à un modèle de Zener. Les différentes caractéristiques du modèle sont déterminées, en se basant sur des séries d'essais expérimentaux simples, inspirés par le comportement réel du matériau. Le problème à résoudre est donc celui de l'évolution de la géométrie de ce bicouche (Elastique - Viscoélastique) avec le temps, ainsi que le rôle de chaque paramètre dans cette évolution.
Fichier principal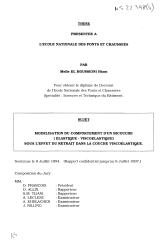 1994TH_EL_HOUSSEINI_H_NS22398.pdf (5.61 Mo)
Télécharger le fichier
Origin : Files produced by the author(s)