Transfert d'eau liquide dans les parois du bâtiment
The objective of this research is to study moisture transfer in the liquid phase in building walls by defining a new metrology to determine the liquid permeability coefficient of building materials. A theoretical part provides us with the present state of knowledge of the modelling of water transfer in liquid phase. It is supplemented with another part dealing with the methods used to measure or impose capillary pressures (or suctions), with particular focus on the osmotic method used later on to impose boundary conditions in terms of suction. This last part opens with a review of the methods intended to measure liquid permeability, and ends with the definition and development of a new method for measuring permeability, for which a patent was registered, which is based on the osmotic method and runs under steady-state conditions, measuring the input and output flow rates of the sample. A testing campaign is carried out on autoclaved aerated concrete with different couples of boundary conditions. An equation is then arranged relating liquid permeability and suction, a process which deserves careful and deeper thought. Finally, the new measuring method calls for improvement. Nevertheless, its operational character is obvious.
L'objectif de cette recherche est l'étude du transfert d'eau en phase liquide dans les parois du bâtiment et de définir une nouvelle métrologie pour déterminer le coefficient de perméabilité liquide des matériaux du bâtiment. Une partie théorique fait l'état des connaissances en matière de modélisation du transfert d'eau en phase liquide. Elle est suivie par une partie qui relate les méthodes utilisées pour mesurer ou imposer des pressions capillaires (ou succions) avec un intérêt particulier à la méthode osmotique qui est utilisée plus tard pour imposer des conditions aux limites en terme de succion. Cette dernière partie s'ouvre sur une revue des méthodes de mesure de la perméabilité liquide et sera conclue par la définition et la mise au point d'une nouvelle méthode de mesure de la perméabilité liquide, qui a fait l'objet d'un dépôt de brevet d'invention, s'appuyant sur la méthode osmotique et qui fonctionne en régime permanent, mesurant les débits entrant et sortant de l'échantillon. Une campagne d'essais est menée sur du béton cellulaire autoclave avec différents couples de conditions aux limites. Il s'ensuit une recherche d'identification d'une relation entre la perméabilité liquide et la succion, démarche qui mérite plus d'approfondissement. Finalement cette nouvelle méthode de mesure mérite d'être diffusée, et son caractère opérationnel est manifeste.
Fichier principal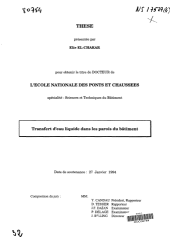 1994TH_EL-CHAKAR_E_NS17527.pdf (7.8 Mo)
Télécharger le fichier
Origin : Files produced by the author(s)