Bétons renforcés de fibres métalliques : du matériau à la structure. Etude expérimentale et analyse du comportement de poutres soumises à la flexion et à l'effort tranchant
Steel fibre reinforced concrete (SFRC) are rarely used in truly structural applications. This fact is mainly due to the lack of design tools, and consequently to the difficulty in quantifying the structural part due to these materials. The objective of this work is to give an answer to this matter in the case of beams. The structural performed tests have two goals : firstly, to study the failure mechanisms and, secondly, to validate the models developed in this work. Tests are thus carried out in bending and shear. A global investigation tool, stereophotogrammetry, is used to study the cracking pattern: it shows clearly an early crack localization and the onset of a block mechanism which leads to a block type failure. These tests point out that the main mechanical characteristic of SFRC is their post cracking behaviour in tension. A uniaxial tension test on notched specimens is used, and developed, to measure a load - crack opening relationship. Specimens are cored, in the direction of the main load, to take into account the anisotropy due to concreting. A first type of model consists in postulating a failure mechanism, then in calculating the equilibrium of the structure, as a function of the crack opening, starting from the experimental relationship obtained in tension. Modelling of bending leads to good results. Concerning shear behaviour, the fibre part is correctly calculated and an equivalence relationship with classical stirrups is achieved. To take into account the observed scale effects, it is necessary to consider the evolution, with the crack opening, of the residual strength in tension. An empirical relationship is necessary to quantify the structural part of shear resistance. This illustrates the limits of simple models. Therefore, it seems necessary to use finite elements to model structures submitted to complex loading. A continuous approach (plasticity) and a discrete one (the LCPC's probabilistic model) are used. To conclude, a complete study was carried out from the material to the structure. This study, experimental and theoretical, presents methods of analysis that, coupled with a global procedure from mix design to mechanical characterization, allow to optimize the design of SFRC structural elements.
Les bétons renforcés de fibres métalliques (BFM) connaissent, à ce jour, peu d'applications dans le domaine des éléments de structure. Cet état de fait est, en grande partie, imputable à l'absence de méthodes de calcul, donc à la difficulté d'apprécier l'apport structural de ces matériaux. Le travail présenté ici a pour but de combler cette lacune dans le cas des poutres. Pour répondre au problème posé, l'étude s'appuie sur des essais de structures réalisés pour, d'une part, étudier les mécanismes de rupture et, d'autre part, valider les modèles élaborés. Des essais sont ainsi effectués en flexion simple et à l'effort tranchant. Une méthode performante a été utilisée pour le suivi global de la fissuration : la stéréophotogrammétrie. Elle a clairement montré une localisation précoce de la fissuration et l'apparition d'un mécanisme de rupture par blocs. Ces essais mettent en évidence que la caractéristique fondamentale des BFM est leur comportement postfissuration en traction. Un essai de traction uniaxiale sur éprouvette entaillée est utilisé, et développé, pour mesurer la capacité des fibres à reprendre un effort à travers une fissure. Les éprouvettes sont carottées, dans la direction des contraintes principales de traction, pour tenir compte de l'anisotropie de répartition des fibres induite par la mise en oeuvre. Une modélisation a été développée à partir des mécanismes étudiés et en prenant comme donnée matériau les résultats de l'essai de traction. Une première famille de modèles consiste à postuler un mécanisme de rupture, puis à calculer l'équilibre de la structure, en fonction de l'ouverture de la fissure, à partir de la relation expérimentale obtenue en traction. Des résultats très satisfaisants ont été obtenus en flexion. En ce qui concerne l'effort tranchant, l'apport des fibres est correctement appréhendé et une relation d'équivalence a été obtenue avec les armatures transversales utilisées habituellement. La prise en compte de l'évolution, avec l'ouverture de fissure, de la contrainte résiduelle postfissuration s'avère indispensable pour retrouver les effets d'échelle observés. L'utilisation d'une méthode en partie empirique pour l'effort tranchant est liée aux limites des modèles simples. Afin de s'affranchir de cette limite et d'étendre la modélisation à des cas complexes, il est apparu nécessaire d'utiliser une modélisation par éléments finis. Un modèle continu (plasticité) et un modèle discret (modèle probabiliste de fissuration) ont été utilisés. En conclusion, il a été mené une étude complète du matériau à la structure. Cette étude, à la fois expérimentale et théorique, a permis de définir des méthodes de calcul qui, couplées à une démarche globale de la composition à la caractérisation, en passant par la fabrication, permettent d'optimiser la conception des éléments de structure en BFM.
Fichier principal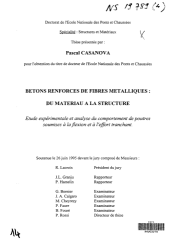 1995TH_CASANOVA_P_NS19789.pdf (14.84 Mo)
Télécharger le fichier
Origin : Files produced by the author(s)