Fonctionnement hydraulique des structures réservoirs pour l'assainissement pluvial : étude des dispositifs de diffusion d'eau et modélisation du couple drain-milieu poreux
In order to reduce urban runoff flowrates and flooding risks, reservoir structures are more and more used. These "alternative technologies" for urban storm water management improve and control the runoff water quality during raining weather. The bibliographic study presents a fine analysis of the main mechanisms governing the hydraulic behaviour of these structures. The injection of rainwater coming from nearby impervious surfaces or catchments through these porous structures requires some diffusion devices to secure the homogeneous filling, so their functioning is not well known. In the first time, the steady rate water flow within a drain has been studied experimentally followed by a numerical modelling. The second part is devoted to the flow simulation through the porous materials, particularly within complex structures composed of cascade porous reservoirs. Finally, a simplified model was proposed to study the transient water flow within the diffusion-drainage device and the surrounding porous medium by a subflow hydrodynamics finite element calculation code.
Les structures réservoirs se développent de plus en plus pour réduire les débits de ruissellement urbain et par voie de conséquence les risques d'inondations. Elles améliorent aussi la qualité des eaux rejetées dans les milieux naturels par temps de pluie. L'analyse fine du fonctionnement hydraulique de ces structures met en évidence de nombreux mécanismes faisant l'objet d'une étude bibliographique. Des systèmes diffusants sont souvent utilisés pour injecter les eaux de surfaces imperméabilisées voisines sans débordement et assurer leur bonne répartition spatiale, or leur fonctionnement est mal connu. Une approche de ce problème est d'abord réalisée en régime permanent, expérimentalement et numériquement en ne prenant en compte que le dispositif de diffusion sans le matériau poreux environnant. Puis une simulation des écoulements dans ce matériau est présentée, en particulier lorsque plusieurs réservoirs en cascade sont construits. Enfin un modèle simplifié des dispositifs de diffusion est proposé et permet leur couplage avec le milieu environnant à l'aide d'un code de calcul par éléments finis d'hydrodynamique souterraine.
Fichier principal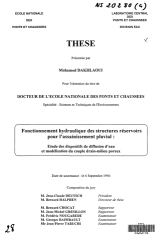 1996TH_DAKHLAOUI_M_NS20280.pdf (21.48 Mo)
Télécharger le fichier
Origin : Files produced by the author(s)