Rhéologie des bétons fluides
This research is devoted to the study of the rheology of fresh concrete. We relate the development of a new prototype rheometer for concrete: BT RHEOM. The principle, the adjustments of the apparatus, and the procedures for different tests are described. Some studies for estimating the objectivity of the measures are also presented. Later, we try to realise some experimental works with the BT RHEOM. The behaviours of the fresh concrete, with or without vibration, are studied. In the range of strain rate investigated, it is found that they follow generally the Bingham model, with some conditions about the consistency and the homogeneity of the concrete. The phenomena of thixotropy and dilatancy are discussed. We investigate also the influence of the parameters of the composition of concrete. A model is then established for estimating the plastic viscosity of high-performance concretes, which could give an aid to concrete mix-design. Finally, with the intrinsic characteristics of a concrete measured with the BT RHEOM, we try to simulate a practical problem: the pumping of fresh concrete. We show also another application of this rheometer: the mix-design of a high-performance concrete.
Ce travail est consacré à l'étude de la rhéologie des bétons fluides. On relate le développement d'un rhéomètre à béton prototype de conception nouvelle, BT RHEOM. Le principe et la mise au point de l'appareil, ainsi que les différentes conduites des essais rhéologiques, sont décrits. Des études visant à estimer l'objectivité des mesures sont présentées. On envisage ensuite quelques études expérimentales avec le BT RHEOM. Les comportements des bétons frais, sans et avec vibration, sont étudiés. Dans la plage de gradient de vitesse étudiée, ils respectent en général le modèle de Bingham, sous réserve que la consistance des bétons satisfasse certaines conditions, et que l'homogénéité des bétons soit acceptable. Les phénomènes de thixotropie et de dilatance des bétons sont ensuite discutés. On s'intéresse également à l'influence des paramètres de composition du béton sur le comportement rhéologique de ce dernier. On établit ainsi un modèle ayant pour objet l'estimation de la viscosité plastique des bétons à hautes performances, fournissant une aide à la formulation du béton. Enfin, avec les caractéristiques intrinsèques d'un béton mesurées au BT RHEOM, on tente de modéliser un problème de chantier : le pompage du béton. On montre également une autre application de ce rhéomètre : la mise au point des formulations de BHP.
Fichier principal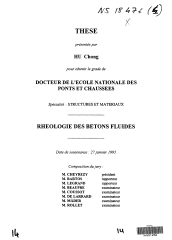 1995TH_HU_C_NS18476.pdf (13.07 Mo)
Télécharger le fichier
Origin : Files produced by the author(s)