Contribution à l'analyse physique et à la modélisation du fluage propre du béton
This research is devoted to the study of the behaviour of concrete under an external long-duration applied load. It may be considered as a step towards physical modeling of basic creep. An analysis of the chemo-physical processes within the material's microstructure is first presented; in parallel, the phenomenological aspects of the macroscopic behaviour under load are summed up. The whole is supported by an experimental work which focuses on strain ageing and unloading. A macroscopic modeling is then proposed which takes explicitely into account the hydration and viscous rate-determining mechanisms acting on the microscopic scale. Finally, it is dealt with identification and experimental determination of the parameters of the model from standard experiments.
Ce travail est consacré à l'étude du comportement sous charge de longue durée du béton et s'inscrit comme une étape vers la modélisation physique du fluage propre. Ce mémoire présente d'abord une analyse des processus physicochimiques qui ont cours au sein du matériau, en parallèle avec une récapitulation de la phénoménologie du comportement macroscopique sous charge, le tout étant appuyé par une campagne expérimentale sur pâte de ciment, centrée sur l'effet de l'âge du matériau sur la déformation et sur le comportement à la décharge. Une modélisation à l'échelle macroscopique est ensuite présentée, qui prend en compte, de manière explicite, les mécanismes d'hydratation et de comportements visqueux qui agissent à l'échelle microscopique. On montre enfin comment les paramètres de ce modèle peuvent être identifiés et déterminés à partir d'essais classiques.
Fichier principal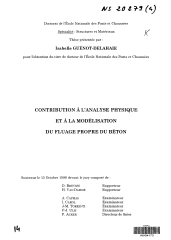 1996TH_GUENOT-DELAHAIE_I_NS20279.pdf (12.43 Mo)
Télécharger le fichier
Origin : Files produced by the author(s)