Fissuration des chaussées en béton armé continu au jeune âge
The present study will contribute to understanding the mechanical behavior of steel-reinforced-concrete based pavements vs. microcracking. Based upon the knowledge of concrete and the griping between concrete and steel, contact problems are investigated according to the finite-element method. The griping experiments allow us to achieve a new test: the ABA test. The present results account for accurate parameters involved in the numerical model for steel-concrete interface law. For a better understanding of cracking origins, an experimental device and original process were perfected to simulate this kind of behavior in life-size in laboratory. It brings to therefore some thermal strains at earlier stage during concrete setting. Otherwise the following points were shown : - the importance of concrete section or steel content - the importance of the friction between the slab and the holder - the influence of the kind of framework used on the craking development. Furthermore, development of mechanical characteristics and free shrinkage were determined on references. And a comparison was undertaken between experimental and calculated results.
Cette étude a pour but de contribuer à une meilleure connaissance du comportement mécanique des chaussées en béton armé continu vis-à-vis de la fissuration. Après avoir effectué des rappels sur le béton, une analyse de la liaison mécanique entre le béton et l'acier, on présente comment les problèmes de contact peuvent être traités par la méthode des éléments finis. Une amélioration des essais d'adhérence nous a permis de pratiquer un nouveau test : l'essai ABA. Les résultats tirés de cette étude expérimentale ont permis de caler les paramètres intervenant dans la modélisation numérique de l'interface acier-béton. Pour mieux comprendre l'origine de la fissuration, un dispositif et un processus expérimental ont été mis au point pour permettre de simuler, en laboratoire, sur des essais en vraie grandeur, ce type de comportement. Il a permis de mettre en évidence les déformations thermiques au jeune âge durant la prise du béton. On a montré l'importance de l'épaisseur de béton et du taux d'acier, l'importance de la nature de la liaison entre la dalle et son support, et, pour le schéma de fissuration, l'influence du type d'armature (HA ou Flexarm). En outre, le développement des caractéristiques mécaniques et l'évolution du retrait libre ont été précisés à partir d'éprouvettes témoins. Pour finir, une comparaison des résultats obtenus avec ceux donnés par le modèle numérique est menée.
Fichier principal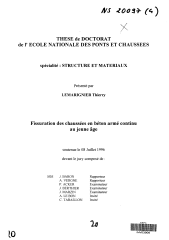 1996TH_LEMARIGNIER_T_NS20097.pdf (24.5 Mo)
Télécharger le fichier
Origin : Files produced by the author(s)