Etude théorique et expérimentale du flambement des pieux
The buckling of micropiles can occur especially when they are founded through weak soils. In case of more standand piles, the flexura! deformation due to lateral loads is sensitive to the vertical loads acting on the pile. These two phenomena cannot be taken into account by commonly used theories of strengh of materials. The aim of this reseach is to consider the geometrical nonlinearities of the pile (second order effect, large displacement), in order to better study the pile response due to such phenomena and to better estimate the critical buckling load that it can support. A bibliographic research is undertaken which concludes that Mandel's theory is the most used in practice. Secondly, a theoretical approach to take into account the geometric nonlinearities is developed. This approach is implemented into a numerical code "GOUFLA". The code validation is carried out by comparing the results to those obtained by the finite element code CESAR-LCPC and to analytical solutions given by Mandel. The results of a centrifuge testing program on axially loaded piles is presented. Centrifuge measurements are used to validate the theoretical estimations. A method is proposed to estimate the buckling load when using the Mandel theory. These measurements are also used to validate the numerical results obtained by GOUFLA. Finally, the programm GOUFLA is used to predict buckling design loads for several existing structures. The analysis of a buckling test on a full scale micropile is presented.
En géotechnique, le phénomène du flambement se rencontre principalement dans le cas des micropieux traversant des sols de faibles caractéristiques mécaniques. Pour des pieux plus massifs chargés latéralement et soumis à une charge verticale importante se pose plutôt le problème de l'influence de l'effort normal sur la réponse en flexion des pieux. Ces deux problèmes se traitent mécaniquement en tenant compte des non-linéarités géométriques (effets du second ordre - grands déplacements). Une synthèse bibliographique est d'abord entreprise. Il ressort que la théorie de Mandel est souvent utilisée dans la pratique. Une approche théorique appelée "résistance des matériaux locale (RDM locale)" est ensuite développée pour tenir compte des non-linéarités géométriques. Cette approche est mise en oeuvre numériquement par le programme GOUFLA de calcul de la réponse d'un groupe de pieux en tenant compte des grands déplacements. La validation du programme GOUFLA s'appuie, d'une part, sur des résultats analytiques obtenus par la théorie de Mandel et, d'autre part, sur les résultats numériques obtenus par le logiciel CESAR-LCPC (code par éléments finis). Les principaux résultats d'un programme d'essais de chargement axial sur des modèles réduits de pieux centrifugés sont ensuite présentés, ainsi qu'une confrontation de ces résultats avec les prévisions théoriques de Mandel ; une méthode est ainsi proposée pour une bonne estimation de la force critique à partir de la théorie de Mandel. Les résultats expérimentaux sont aussi comparés avec ceux obtenus numériquement par le programme GOUFLA. Des prévisions de la force critique de flambement sont calculées par le programme GOUFLA pour le dimensionnement des fondations de plusieurs ouvrages réels. L'interprétation et l'analyse d'un essai de flambement d'un micropieu en vraie grandeur sont présentées.
Fichier principal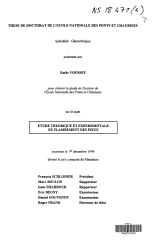 1994TH_YOUSSEF_E_NS18471.pdf (13.07 Mo)
Télécharger le fichier
Origin : Files produced by the author(s)