Etude expérimentale et modélisation de l'élargissement des remblais sur sols compressibles
Two approaches were used to study the behaviour of compressible soils during the widening of an embankment: the testing of small scale models in a centrifuge and numerical analyses by the finite element method. In the centrifuge, the embankments were built in flight by using a new hopper, which was designed for this test. Seven containers of reconstituted Speswhite clay were prepared and equipped with surface settlement, pore water pressure and horizontal displacement sensors. Seven tests were made. The first three tests were used to define the test procedure and the last four ones to compare two types of embankment widening. The analysis of the measurements and observations made on the models showed the importance of the soil preparation conditions and of the detailed history of the soil from its pouring into the container until the end of the test. The clay behaviour in the centrifuge depends on a combination of consolidation and creep, which in turn depends on the initial overconsolidation state of the clay and makes the interpretation of the experimental results more complicated. The numerical analyses were made by using CESAR-LCPC. They concerned the centrifuge small scale models and the behaviour of a motorway widening embankment, built 25 years after the motorway construction. For the finite element coupled elasto-plastic analyses, some of the necessary geotechnical data were not available; the comparison of numerical and experimental data was therefore not conclusive, despite their qualitative agreement. In order to get more useful results for practice better information about the mechanical properties of the soils is thus needed.
Deux approches ont été utilisées pour étudier le comportement des sols compressibles lors de l'élargissement d'un remblai : étude sur modèles réduits centrifugés et analyse numérique en éléments finis. Pour l'étude en centrifugeuse, la construction des remblais pendant la rotation du modèle a été effectuée grâce à une trémie développée pour cette recherche. Sept conteneurs d'argile Speswhite reconstituée ont été préparés et équipés de capteurs de tassements de surface, de pressions interstitielles et de déplacements horizontaux. Sept essais ont été réalisés, les premiers pour mettre au point les procédures d'essai et les quatre derniers pour comparer deux variantes d'élargissement d'un remblai. L'analyse des résultats des mesures et des observations faites sur les modèles a montré l'importance des conditions de préparation des massifs d'argile et d'un suivi détaillé de toute l'histoire des sols depuis leur mise en place dans le conteneur jusqu'à la fin de l'essai. Le comportement des argiles pendant la centrifugation dépend d'une combinaison de consolidation et de fluage qui dépend de leur état de surconsolidation initiale et complique l'interprétation des mesures effectuées sur le modèle. La modélisation numérique a été effectuée au moyen de CESAR-LCPC. Elle a porté sur les modèles testés en centrifugeuse et sur le comportement d'un remblai autoroutier élargi vingt-cinq ans après sa construction. Le calcul en éléments finis, de type élastoplastique couplé, nécessitait des données géotechniques qui n'étaient pas toutes disponibles et les comparaisons effectuées avec les mesures sont restées pour cette raison incomplètes, bien que les phénomènes soient reproduits qualitativement de façon acceptable. Ces recherches montrent qu'il est indispensable de mieux définir les propriétés mécaniques des sols pour déboucher sur des résultats d'application pratique.
Fichier principal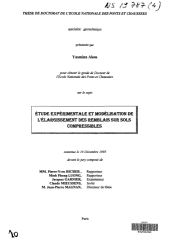 1995TH_AKOU_Y_NS19787.pdf (16.14 Mo)
Télécharger le fichier
Origin : Files produced by the author(s)