Contribution à la modélisation du comportement hydrique et mécanique des remblais routiers en matériaux fins
A coupled model for three-phase unsaturated porous media, with allowance for both the stress-strain relationships of the soil and the flow of water and air, is presented. It is aimed at improving the settlement predictions and stability analyses of geotechnical structures. A system of non linear equations, both for the stress-strain relationships and for the flow of fluids, is first derived, on the basis of the static equilibrium equations, of the continuity equations and of the constitutive relationships of each of the three phases. This system of equations is then solved using the finite element method and an implicit integration scheme for time dependency. This work resulted in the implementation in the finite element program CESAR-LCPC of a new family of elements, devoted to the two-dimensional consolidation analysis of unsaturated soils, and of an iterative algorithm, combining the method of variable stiffness for the flow nonlinearities and the initial stress method for the material nonlinearities. A new subroutine of CESAR-LCPC, termed CSNS (for Consolidation of Unsaturated Soils, in French), was created for performing this type of analysis. The subroutine CSNS takes into account the staged construction of the geotechnical structures and can accommodate any type of boundary conditions. It was checked against the observed behaviour of a test section of an existing motorway. The comparison of the observed and calculated displacements and water pressures in the embankment gave encouraging insight into the capabilities of the method.
Afin de mieux estimer les tassements et la stabilité des ouvrages géotechniques au cours du temps, une modélisation du comportement couplé (mécanique, écoulement de l'eau et écoulement de l'air) des milieux poreux non saturés est développée. A partir des équations d'équilibre, de continuité et de comportement des trois phases du sol, nous avons d'abord établi un système non linéaire tant du point de vue mécanique que du point de vue des écoulements. Ce modèle est discrétisé dans l'espace, par éléments finis, et dans le temps, par un schéma implicite. Le traitement numérique de ce problème conduit, d'une part, à la création d'une nouvelle famille d'éléments de consolidation bidimensionnelle des sols non saturés dans le code de calcul par éléments finis CESAR-LCPC et, d'autre part, à la mise au point d'un algorithme itératif combinant la méthode des rigidités variables pour le traitement des non linéarités liées à l'écoulement des fluides et la méthode des contraintes initiales pour le traitement des non linéarités mécaniques. La programmation de cet algorithme a été effectuée dans le module CSNS (Consolidation des Sols Non Saturés) de CESAR-LCPC. La modélisation effectuée et sa programmation, qui tient compte, entre autres, du phasage de la construction du remblai et des conditions aux limites de diverses natures, ont été testées sur un ouvrage réel (remblai autoroutier). La confrontation des résultats numériques et expérimentaux sur cet ouvrage a montré que cette approche de couplage des écoulements de l'eau et de l'air et des déformations du sol produit des résultats encourageants tant du point de vue mécanique que du point de vue des écoulements.
Fichier principal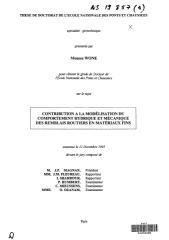 1995TH_WONE_M_NS19857.pdf (10.81 Mo)
Télécharger le fichier
Origin : Files produced by the author(s)