Comportement thermo-hydro-mécanique des massifs rocheux fracturés
The purpose of this research is to model Thermo-Hydro-Mechanical behavior of fractured rock mass regarding a nuclear waste redepository. For this, a methodology of modeling was proposed and was applied to a real underground site (EDF site at Nouvelle Romanche). This methodology consists, in a first step, to determine hydraulic and mechanical REV. Beyond the greatest of these REV, development of a finite element code allows to model all the fractures in an explicit manner. The homogenized mechanical properties are determined in drained and undrained boundary conditions by simulating triaxial tests that represent rock mass subject to loading. These simulations allow to study the evolution of hydraulic and mechanical properties as a function of stress state. Drained and undrained boundary conditions enable to discuss the validity of assimilation of a fractured rock mass to a porous medium. The simulations lead to a better understanding of the behavior of the fractured rock masses and allow to show the dominant role of the shear behavior of the fractures on the hydraulic and mechanical homogenized properties. From a thermal point of view, as long as conduction is dominant, thermal properties of the rock mass are almost the same as those the intact rock.
L'objet de cette recherche est de modéliser le comportement Thermo-Hydro-Mécanique des massifs rocheux fracturés en vue du stockage de déchets radioactifs. A cette fin, nous avons été amené à proposer une méthodologie de modélisation des massifs rocheux fracturés qui a été appliquée à un site souterrain réel (Site EDF de Nouvelle Romanche). Cette méthodologie consiste, dans un premier temps, à rechercher les VER hydraulique et mécanique. Au dessus du plus grand de ces VER, les développements effectués dans un programme d'éléments finis permettent de modéliser toutes les fractures de manière explicite. On détermine les propriétés mécaniques homogénéisées en condition drainée et non drainée en simulant des essais triaxiaux représentatifs du massif soumis à un chargement. Ces simulations permettent d'analyser l'évolution des propriétés hydrauliques homogénéisées avec l'état de contraintes. La réalisation des expériences de type drainé et non drainé permet de discuter de la pertinence de l'assimilation d'un milieu fracturé à un milieu poreux. Ces simulations ont mis en évidence, en particulier, le rôle du comportement en cisaillement des fractures sur les propriétés homogénéisées mécaniques et hydrauliques. Du point de vue de la thermique, tant que le mode principal de propagation de la chaleur est la conduction, les propriétés thermiques homogénéisées sont peu différentes des propriétés thermiques de la matrice rocheuse.
Fichier principal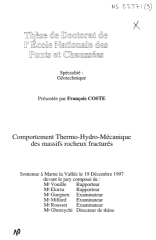 1997TH_COSTE_F_NS22571.pdf (8.78 Mo)
Télécharger le fichier
Origin : Files produced by the author(s)