Développement d'un environnement de simulation de systèmes complexes. Application aux bâtiments
This work presents the application of modern software engineering concepts on the development of a modular simulation environement for the simulation of complex thermal systems. A strict application of the ideas of object oriented design as limited access to internal data allows the realisation of a modular, flexible and effective simulation environment. A hierarchical analysis of the studied system gives us a graph describing the dependencies between the components of the system. Each component is encapsulated in a computer object with its own model of calculation. The actual work of the simulation program is the resolution of the connection conditions. The hierarchical structure stays valid during the numerical resolution and is used for parallelization of the necessary calculations. In order to ease the usage of once developed models we base the environment on a model library from which the user can pick the models and assemble his/her own simulation system. Some examples show the application of our simulation environment to thermal problems of building technology.
Ce travail présente l'application de concepts modernes du génie logiciel au développement d'un environnement de simulation modulaire de systèmes thermiques complexes. Une application stricte des idées de la Conception Orientée Objet permet la réalisation d'un environnement modulaire, souple et efficace. Une analyse hiérarchique du système à étudier nous fournit un graphe de dépendance entre les composants du système. Chaque composant est confiné dans un objet informatique et a son propre modèle de calcul. Le travail essentiel du simulateur est la résolution des conditions de connexion entre les composants. La structure hiérarchique est conservée et exploitée pour une parallélisation des calculs pendant la simulation numérique. Pour une meilleure capitalisation des modèles développés, nous nous reposons sur une « modélothèque » à partir de laquelle l'utilisateur peut récupérer des modèles pour construire son propre système de simulation. Des exemples d'application de notre environnement de simulation pour des problèmes thermiques de bâtiment sont présentés.
Fichier principal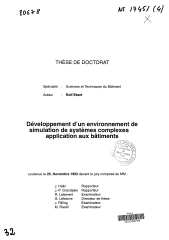 1993TH_EBERT_R_NS17451.pdf (11.92 Mo)
Télécharger le fichier
Origin : Files produced by the author(s)