Réduction de modèles thermiques par amalgame modal
A complete method (the amalgam method) for reducing state models of linear thermal systems without mass transfer is presented here. We apply the approach to thermal problems. The idea set to work is based on partitioning the model state space into some orthogonal subspaces. The dynamic behavior of each subspace is then approximated by only one pseudo-eigen function. The reduced model obtained with aforementioned method is shown to be optimal with respect to significant error measure. The algorithm runtime is short. Several examples are presented, for which the amalgam method is compared with other approachs.
On présente la méthode d'amalgame modal. Il s'agit d'une approche pour réduire un modèle d'état modal quelconque. La méthode est ici appliquée dans le cadre de la thermique. Le principe repose sur une partition judicieuse de l'espace d'état modal en quelques sous espaces disjoints. La dynamique de chaque sous espace est ensuite approchée au mieux par un pseudo-élément propre. L'optimalité de la démarche est prouvée au sens d'un critère d'écart quadratique de qualité. Le modèle obtenu conserve des liens formels avec le modèle d'origine. Du point de vue algorithmique, la méthode est automatique : on peut chercher le meilleur modèle réduit respectant une contrainte de précision et/ou de taille. La méthode est performante en temps de calcul. La réduction par amalgame modal est comparée à celles d'autres méthodes. Des exemples de réduction de modèles modaux 1D, 2D et 3D sont donnés.
Fichier principal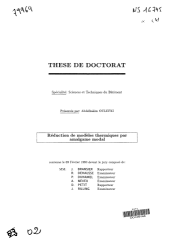 1993TH_OULEFKI_A_NS16745.pdf (10.24 Mo)
Télécharger le fichier
Origin : Files produced by the author(s)