Modélisation tridimensionnelle des transferts thermiques et aérauliques dans le bâtiment en environnement orienté objet
This work consists in the description of the air flow and heat transfer in buildings, making use of a simplified tool: the zonal method. It is a 3D method based upon the partitioning into a small number of subzones, intermediate between one-node and CFD models. Mass and energy balances are written in each subvolume while the mass flow in the interfaces are calculated by power pressure laws. The modularity of the method makes it particularly suitable for an implementation in an object oriented environment. The SPARK environment, fit for the resolution of large nonlinear equations systems, is hence used. Results are validated by comparison with various experimental and numerical references. A sensitivity analysis is then performed to determine the appropriate empirical coefficients as well as the characteristics of an optimal mesh. The properties of the object oriented environment are taken advantage of by coupling the zonal method with a thermal comfort model, a conductive model (taking into account 3D effects) and a mass transport model. The simulation of the influence of a heat source yields results consistent with experimental data, in the whole domain studied. Last, the combined natural and forced convection case is treated by adding a model for kinetic energy conservation in the subzones, and the calculated mass flows tally with the CFD results.
L'étude consiste à décrire les phénomènes thermiques et aérauliques dans le bâtiment à l'aide d'un outil simplifié : la méthode zonale. Il s'agit d'une méthode tridimensionnelle basée sur le partitionnement en un petit nombre de sous-volumes, intermédiaire entre les modèles à un noeud et les maillages fins. On écrit des bilans de masse et d'énergie dans chaque sous-volume tandis que les échanges dans les interfaces sont déterminés par des lois reliant les débits aux différences de pression. L'aspect modulaire de la méthode facilite son implémentation dans un environnement orienté objet et le logiciel SPARK, adapté à la résolution de gros systèmes d'équations non-linéaires est utilisé à cet effet. Les résultats sont validés par rapport à différentes références expérimentales et numériques. Une étude paramétrique détermine les coefficients empiriques judicieux ainsi que les caractéristiques d'un maillage optimal. Un autre atout d'un environnement objet réside dans les possibilités de couplage. On traitera successivement l'exemple d'un modèle de description du confort, celui des transferts par conduction en tenant compte des effets tridimensionnels ainsi qu'un modèle de transferts de masse. La simulation des effets d'une source de chaleur donne des résultats conformes aux constatations expérimentales dans l'ensemble du volume. Enfin, le cas de la convection mixte est traité en prenant en compte la conservation de l'énergie cinétique dans l'écoulement ; les résultats correspondent à ceux obtenus avec un modèle de champ.
Fichier principal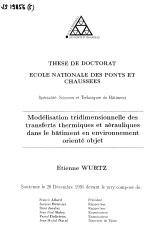 1995TH_WURTZ_T_NS19856.pdf (11.89 Mo)
Télécharger le fichier
Origin : Files produced by the author(s)