Stabilité à long terme des talus de mines à ciel ouvert dans les massifs de roches basiques et ultrabasiques
The present work is devoted to the weathering of basic and ultrabasic rocks under various climatic conditions and to the influence of such processes on the long term slope stability in open-pits. The rocks belong to old weathering profiles and, when outcropping by exploitation, are submitted to meteoric weathering which modify their petrographic and geotechnical parameters, at both the rock matrix and the rock mass scale. During this work, two sites were investigated: the chromite mine of Bemanevika (Madagascar), where the ultrabasites and the meta-ultrabasites are intensively weathered under tropical climatic conditions, and the asbestos mine of Bagenovskoe (Central Oural, Russia), where the same kind of rocks are exposed to weathering under tempered continental conditions. The long term forecasting of slope stability, taking into account the weathering development, was analysed in both cases. We also implemented laboratory simulations of the weathering of various rocks and rock sensitivity to weathering. Two kind of simulations were conducted: physical weathering by intensive frost/thaw cycles, and chemical weathering by leaching cycles in hot water using Soxhlet extractors. The data analysis and the comparison made between laboratory and in situ results allow to quantify the weathering process and, at least, to give an outline of long term development of instabilities in several rock masses, under various climatic conditions.
Le présent travail est consacré aux problèmes de l'altération de roches basiques et ultrabasiques sous des conditions climatiques différentes et à l'influence de ces processus sur la stabilité à long terme des talus de mines à ciel ouvert. Les roches font partie d'anciens profils d'altération et, mises à jour par l'exploitation, subissent des altérations météoriques modernes qui changent les paramètres pétrographiques et géotechniques les caractérisant, ceci au niveau de la matrice rocheuse et du massif rocheux. Deux objets ont été étudiés au cours de ce travail : la mine de chromite de Bemanevika (Madagascar) où les métabasites et méta-ultrabasites sont très intensivement altérées sous conditions climatiques tropicales et la mine d'amiante de Bagenovskoe (Oural Central, Russie), où des roches de même type sont exposées à l'altération sous conditions tempérées continentales. La prévision de la stabilité des talus à long terme, en tenant compte du développement de l'altération dans les massifs, y a été analysée. Nous avons également procédé à des simulations en laboratoire de l'altération et de l'évolution de l'altérabilité de diverses roches. Deux types de simulation ont été réalisés : l'altération physique par cycles de gel-dégel intensif et l'altération chimique par cycles de lessivage en eau chaude en extracteur Soxhlet. L'analyse et la comparaison des résultats en laboratoire et in situ permettent de quantifier les processus d'altération et, enfin, d'établir les schémas de développement à long terme d'instabilités dans différents massifs rocheux sous diverses conditions climatiques.
Fichier principal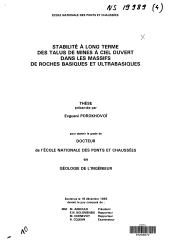 1995TH_POROKHOVOI_E_NS19989.pdf (19.19 Mo)
Télécharger le fichier
Origin : Files produced by the author(s)