Analyse de la stabilité des ouvrages souterrains par une méthode cinématique régularisée
This thesis deals with the stability of shallow tunnels and underground openings constructed in soft soil. The stability of this kind of structure is usually analyzed by means of computational methods that have been validated by experience but are based on assumptions that are not fully consistent with the principles of mechanics. The limit analysis allows to provide upper and lower bounds of the rupture loads for any given mechanical system. This thesis describes the numerical implementation of a regularized approach of the kinematical method in limit analysis to the study of the stability of underground openings. The soil resistance is modeled by the Tresca, Tresca with tension cut-off and Mohr-Coulomb criteria for two-dimensional analyses and by the Tresca and Mohr-Coulomb criteria for the three-dimensional calculations. The calculations provide a reasonable picture of the failure mechanisms that are actually observed in nature and in small scale tests. The values calculated for the limit loads are close to those obtained experimentally.
Cette thèse traite le problème de la stabilité des ouvrages souterrains creusés en terrain meuble à faible profondeur. La stabilité de ce type d'ouvrages est normalement étudiée en utilisant des méthodes justifiées par l'expérience mais dont les hypothèses ne sont pas toutes cohérentes au plan mécanique. L'application systématique du calcul à la rupture et de l'analyse limite fournit des encadrements pour les chargements conduisant à la rupture d'un système donné. Le mémoire décrit la mise en oeuvre numérique d'une forme régularisée de l'approche cinématique de l'analyse limite pour l'étude de la stabilité des ouvrages souterrains. La résistance des sols est modélisée par des critères de Tresca, de Tresca tronqué en traction et de Mohr-Coulomb en conditions bidimensionnelles, et par des critères de Tresca et de Mohr-Coulomb pour les calculs tridimensionnels. Les calculs reproduisent les modes de rupture observés dans les travaux souterrains et sur modèles. Les charges limites calculées sont voisines des valeurs expérimentales.
Fichier principal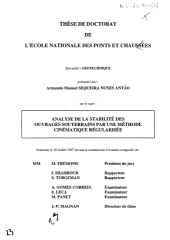 1997TH_SEQUEIRA_NUNES_ANTAO_AM_NS20910.pdf (13.26 Mo)
Télécharger le fichier
Origin : Files produced by the author(s)