Modélisation élastoplastique avec endommagement du béton de structures. Application aux calculs statiques et dynamiques de structures en béton armé et béton précontraint
This thesis seeks to study the effects of cracking at a structural level of reinforced and prestressed concrete structures when subject to static, cyclic and dynamic loading. This is done by exploring the constitutive equations of materials at a structural level and by developing appropriate numerical tools. A macroscopic model coupling plasticity with damage is used for modelling the non-linear behaviour of concrete. For the plastic part, the elastoplastic law is adapted to the specific behaviour of concrete. The (micro)cracking of the material is presented at the macroscopic level in terms of plastic strains, and the occurrence and development of damage by the evolution of plastic variables. In particular, the plastic porosity models the irreversible variation of connected porous space created by micro-cracking. This physical significance is at the basis of a phenomenological coupling of the plasticity model with the damage model. Damage effects are then accounted for by a degradation of elastic moduli as a function of the chosen damage variable: the plastic porosity. This material law is used within a multi-fiber finite beam element which is the extension of the well established planar multi-layer beam element to the three dimensional case. This numerical tool allows to account for material and geometrical non linear effects in the structural analysis of beam type structures subject to various loadings at low computation costs. For prestressing, the formulation takes into account the relative displacement between prestressing tendon and surrounding concrete. It is thus treated as a boundary problem at steel-concrete interface. These developments are implemented in a finite element program. Through a set of numerical applications, we show the field of application of these developments, as well as their limits, as design tools for structural engineers.
Le but de cette thèse est l'étude prédictive par calcul aux éléments finis des effets de la fissuration à l'échelle de structures en béton armé et précontraint soumises à des chargements statiques, cycliques et dynamiques. Il s'agit d'une part de préciser les lois de comportement des matériaux constitutifs de ces structures, et d'autre part de développer des outils numériques adaptés. Pour la modélisation du comportement du béton, un modèle du comportement macroscopique est présenté, couplant la plasticité à l'endommagement. Pour la partie plastique, il s'agit d'adapter la loi élastoplastique au comportement spécifique du béton. La (micro)fissuration du matériau est représentée à l'échelle macroscopique en termes de déformations plastiques, et l'apparition et l'évolution du dommage par l'évolution de variables plastiques. En particulier, la porosité plastique modélise la variation irréversible de l'espace poreux connecté créé par (micro)fissuration. Cette signification physique est à la base du couplage phénoménologique de la plasticité et de l'endommagement : les effets du dommage sont modélisés par une variation des caractéristiques élastiques fonction de la variable d'endommagement choisie : la porosité plastique. Cette loi de comportement est utilisée au sein d'un élément fini particulier : l'élément poutre multifibre, issu de l'extension des approches multicouches au cas tridimensionnel. L'outil numérique développé permet de prendre en compte des phénomènes non-linéaires tant matériels que géométriques dans l'analyse de structures à poutres sous des chargement divers avec un temps de calcul raisonnable. Pour l'application au cas des structures en béton précontraint, la formulation prend en compte des déplacements relatifs (glissement) entre câble précontraint et béton : la précontrainte est traitée comme un problème de condition aux limites à l'interface acier-béton. Ces développements sont mis en oeuvre dans un code de calcul par éléments finis. Au travers d'exemples d'applications numériques, le domaine d'application et les limites des outils proposés sont précisés. Ces outils se veulent une aide à la conception pour les ingénieurs, dans les études prédictives des effets du dommage à l'échelle des structures.
Fichier principal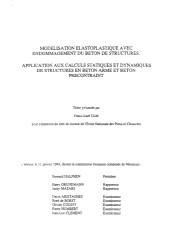 1994TH_ULM_FJ_NS17724.pdf (13.38 Mo)
Télécharger le fichier
Origin : Files produced by the author(s)