Mécanique de l'endommagement. Théorie du premier gradient et application au béton
Damage in a solid results from microscopic movements. We decide to include the power of these movements in the principle of virtual powers. Because the microscopic velocities are related to the damage rate, the power of the internal forces we choose depends on the damage velocity and also on its gradient to take into account the interactions. This approach allows to represent the nonlinear behaviour of concrete, which is due to the damage, by strain softening models. The applications for structural computations give objective results and overcome the mesh sensitivity. Taking into account the gradient of damage in the formulation leads also to a good description of the structural size effect. The unilateral phenomenon, linked to the crack closure, which leads to the restoration of stiffness of the material when going from tension to compression, is described through two damage variables and a partition of the strain tensor into two parts in the expression of the free energy. The models we present are implemented in a finite element code and the results allow a predictive structural analysis.
A l'intérieur d'un solide, l'endommagement est provoqué par des mouvements microscopiques. Nous décidons de tenir compte de ces mouvements dans le principe des puissances virtuelles. Les vitesses microscopiques étant reliées à la vitesse d'endommagement, la puissance des efforts intérieurs que nous retenons dépend de cette vitesse et aussi de la vitesse du gradient de l'endommagement pour décrire les interactions. L'utilisation de cette approche permet de représenter le comportement non linéaire du béton, qui est en grande partie dû à l'endommagement, par des modèles adoucissants. Les applications aux calculs de structures donnent des résultats objectifs surmontant la difficulté liée à la dépendance du maillage lors de la discrétisation par éléments finis. La prise en compte du gradient de l'endommagement dans la formulation permet également de rendre compte de l'effet d'échelle de structures. Le phénomène unilatéral lié à la refermeture des microfissures, qui conduit à la restauration de la raideur lors du passage d'un chargement endommageable en traction à un chargement en compression, est pris en compte par l'utilisation de deux variables scalaires d'endommagement et par une partition du tenseur des déformations dans l'expression de l'énergie libre. Les modèles que nous présentons sont implantés dans un code de calcul par éléments finis et les résultats obtenus permettent une analyse prévisionnelle des structures.
Fichier principal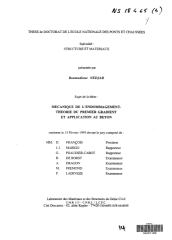 1995TH_NEDJAR_B_NS18465.pdf (6.68 Mo)
Télécharger le fichier
Origin : Files produced by the author(s)