Nouvelle modélisation multiparticulaire pour l'analyse des efforts dans les plaques composites multicouches impactées
We propose a numerical model of composite materials multilayered plates when submitted to the impact of dynamic loading. This model enables us to determine the stresses resulting from impact, in the aim to study some damages like delamination. The new model used is called multiparticular modelisation of multilayered materials (M4). It considers the tridimensional object having a bidimensional geometry with an increased number of kinetic fields. Stresses appear naturally at the interface between the layers. These stresses can then be related to the delamination phenomenon. The bibliographic analysis shows that this model is pertinent for the relatively high velocity impacts. For this model used, the dynamic numerical code is based upon the finite element method. The finite element code obtained is valided. After that, we use it to analyse stresses in an impacted multilayered plate. We show then from an example, that this model is pertinent and able to determine simply and rapidly useful informations for the study of different aspects of the delamination phenomenon (initiation, propagation and delamination area).
On propose une modélisation numérique des plaques multicouches en matériaux composites lorsqu'elles sont soumises à l'impact de charges dynamiques. Cette modélisation permet de déterminer les efforts engendrés par l'impact, le but étant de pouvoir étudier certains endommagements comme le délaminage. La nouvelle modélisation utilisée appelée modélisation multiparticulaire des matériaux multicouches (M4), permet de modéliser l'objet tridimensionnel par une géométrie bidimensionnelle tout en augmentant le nombre de champs cinématiques. Elle fait apparaître de manière naturelle des efforts au niveau des interfaces entre les couches. Ces efforts peuvent être reliés au phénomène de délaminage. L'analyse des résultats de la littérature permet de montrer que cette modélisation est pertinente dans le cas des chocs relativement rapides. Un outil numérique a été réalisé sur la base de la méthode des éléments finis en dynamique. Le code éléments finis obtenu est ensuite validé, puis appliqué à l'analyse des efforts dans une plaque multicouche impactée. Nous montrons sur un exemple, la pertinence de cette modélisation et sa capacité à fournir de manière simple et rapide, des informations utiles pour l'étude des différents aspects du délaminage (initiation, propagation, étendue).
Fichier principal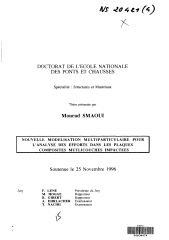 1996TH_SMAOUI_M_NS20421.pdf (13.19 Mo)
Télécharger le fichier
Origin : Files produced by the author(s)