Validation et formulation variationnelle d'une loi de comportement viscoélastique non linéaire en grandes déformations
We develop a large strain nonlinear viscoelastic model, called pseudo-linear model. It is based on the choice of a suitable strain tensor which permits to write the Helmholtz free energy as a quadratic form and the constitutive equation as a single convolution equation. To validate this model, we compare the pseudolinear potential with a general Helmholtz free energy approximated by a fourth order multiple integral expansion. The memory functions are chosen in exponential form with one characteristic time by decade. This comparison shows that the two models are in good agreements. The proposed model can easily evaluate the dissipation function of the material. This is illustrated in the case of harmonic vibrations. Then, we develop a variational formulation based on the total energy minimum principle. A numerical integration procedure using the finite element method is proposed, based on a linear approximation in the time domain. The comparison between the numerical results and the theoretical predictions are in good agreements for common behaviours.
On développe un modèle viscoélastique non linéaire en grandes déformations, appelé modèle pseudo-linéaire. Ce modèle est basé sur un choix particulier d'une mesure de déformation permettant d'écrire le potentiel d'énergie libre sous forme quadratique et la loi de comportement sous forme d'une convolution simple. Afin de valider ce modèle, on compare le potentiel pseudo-linéaire à un potentiel d'énergie libre écrit sous la forme générale d'un développement de Fréchet d'ordre 4. Les fonctions de relaxation de ce potentiel sont écrites sous forme d'exponentielles décroissantes à un temps caractéristique par décade. Cette comparaison montre une bonne concordance entre les deux descriptions. La formulation proposée permet de calculer simplement la dissipation dans le matériau. Une illustration est donnée dans le cas d'oscillations harmoniques. On développe alors une formulation variationnelle associée au modèle pseudo-linéaire basée sur la minimisation de l'énergie totale. On effectue une approximation linéaire en temps et on propose une procédure numérique de résolution. On construit alors un code de calcul par éléments finis et on le valide dans le cas de comportements simples en comparant les solutions analytiques aux résultats numériques.
Fichier principal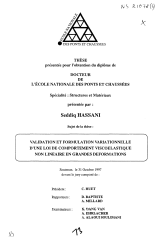 1997TH_HASSANI_S_NS21078.pdf (11 Mo)
Télécharger le fichier
Origin : Files produced by the author(s)