Modélisation des comportements mécaniques et hydrauliques de massifs rocheux simulés par des assemblages de blocs rigides. Introduction d'un couplage hydro-mécanique
This research aims at modelling the hydro-mechanical behaviour of fissured rock masses by improvement and extension of a discrete element model, called BRIG3D. This model simulates fissured rock mass as a set of rigid blocks interacting along their interfaces. Interface deformation is related to the relative displacement of the corresponding blocks. Being subject to external loads, the total set of blocks moves until equilibrium is reached. The computation of this equilibrium has been improved by redefining the model description of the rigid block movement, the interface position and the stress distribution along an interface. To describe flow problems through blocks interfaces, a boundary element model has been developed. Flow through each interface is assumed to be laminar, stationary and planar. This hydraulic model has then been coupled with the mechanical model BRIG3D and used to analyse hydro-mechanical rock mass behaviour under varying loads. In particular, a study of a dam foundation has been carried out.
L'objectif de ce travail est de modéliser le comportement hydro-mécanique de massifs rocheux fissurés. Ceci concerne précisément l'amélioration et l'extension d'un modèle par éléments discrets appelé BRIG3D. Ce modèle assimile un massif rocheux fissuré à un assemblage de blocs rigides qui interagissent au niveau de leurs interfaces. La déformation de ces interfaces est reliée aux déplacements relatifs des blocs. Sous l'effet des sollicitations du massif, chaque bloc, en interaction avec d'autres, se déplace vers une position d'équilibre. Les améliorations concernent la reformulation mécanique de BRIG3D. De nouvelles descriptions concernant le mouvement d'un corps rigide, la position des interfaces et le champ des contraintes sont introduites. Ce travail de recherche concerne également l'introduction d'un modèle par éléments frontières décrivant un écoulement laminaire, permanent et plan aux interfaces des blocs. Le couplage de ces deux modèles à permis d'analyser le comportement hydro-mécanique de massifs rocheux fissurés soumis à diverses sollicitations. Une étude particulière a été consacrée à l'analyse du comportement d'une fondation de barrage.
Fichier principal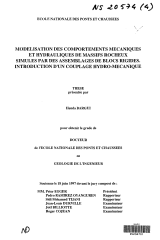 1997TH_BARGUI_H_NS20574.pdf (13.19 Mo)
Télécharger le fichier
Origin : Files produced by the author(s)