Contribution à la modélisation des stuctures en béton armé par la méthode des éléments finis
A computer program is developed for the finite element nonlinear analysis of two-dimensional reinforced concrete structures under monotonic loading. The smeared-crack approach is used and the reinforcement is considered uniformly distributed within the element. An elastic work-hardening plastic stress-strain relationship with nonassociated flow rule is assumed for the concrete in compression and an elastic brittle fracture behavior in tension. The steel is considered as an elastic perfectly plastic material. Nonlinear reversible formulations are used for the tension stiffening and the aggregate interlock while a linear model is adopted for the dowel action of the reinforcement. The overall behavior of a cracked element is obtained by combining the above phenomena in such a way that the normal and tangential effects are coupled. A new solution algorithm is developed, with variable load level, which follows the subsequent cracking of elements. Therefore a better approximation of the behavior of the cracked structure, highly path dependent, is obtained. Numerical examples are presented for three structures and comparison is made with experimental results. A good agreement is observed and many aspects of the behavior of the structures are well represented by the analysis. These applications also showed the improvements to carry out and particularly the use of higher order elements and better models for the phenomena mentionned above.
Ce travail a pour but l'élaboration d'un code d'éléments finis pour le calcul des structures planes en béton armé sous charges monotones. La représentation "répartie" est utilisée tant pour les armatures que pour les fissures. Le béton est considéré comme un matériau élastoplastique écrouissable en compression avec une loi d'écoulement non-associée et élastique fragile en traction. Pour l'acier une loi élastique-parfaitement plastique est adoptée. L'adhérence acier-béton et 1'engrènement sont introduits par des formulations totales non-linéaires réversibles, tandis que pour l'effet de goujon un modèle linéaire a été adopté. La réponse d'un élément fissuré est obtenue par la considération des phénomènes ci-dessus. Une nouvelle stratégie de résolution a été conçue qui permet de suivre les fissurations des éléments une par une afin de bien tenir compte de ce phénomène particulièrement dépendant du trajet de chargement. Les prévisions du programme ont été comparées avec les données expérimentales sur trois exemples de structures. Les résultats sont globalement prometteurs et plusieurs aspects de la réponse des structures ont été approchés d'une façon satisfaisante. D'autre part, des indications sont obtenues sur des améliorations futures et notamment vers l'utilisation d'éléments d'ordre supérieur et l'adoption de modèles plus fins pour les phénomènes mentionnés.
Fichier principal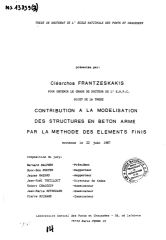 1987TH_FRANTZESKAKIS_C_NS13859.pdf (5.53 Mo)
Télécharger le fichier
Origin : Files produced by the author(s)