L'espace logistique. Organisation logistique et organisation du territoire, le cas du Nord-Pas de Calais
This thesis looks at the way logistical organizations take the territorial dimension into account, and the impact these organizations have on any given spatial framework. The region Nord-Pas de Calais was the experimental field for this analysis. This work combines two methodological approaches which complement one another. A "global" approach consists of an analysis of statistical data on flows and locations. It revealed and explained such phenomena as spatial concentration, and the creation of "centralities" and "peripheries" at a regional scale. Another approach, looking at the firm level, and coming from transport economics and management sciences, consists of a decomposition of production structures by site and by function, showing how firms work spatially. Some firms which were typical of five industrial sectors concentrated in the Region were specifically analyzed. This showed a very broad variety of types of organizations. A typology was elaborated by defining five criteria and proposing three referential models for logistical organizations. These models show how firms' needs have changed overtime and what type of demand freight transport providers will have to satisfy. The mechanisms that structure demand oblige these transport firms to modify their organization and locational strategies. The trend towards metropolisation in the Lille region is a clear example of such strategy, and it responds to some qualitative criteria that this work has tried to identify.
Cette thèse étudie la manière dont les organisations logistiques intègrent la dimension territoriale, et la manière dont l'évolution de ces organisations remodèle un cadre spatial donné, en choisissant le Nord-Pas de Calais comme champ d'application. Elle combine deux approches méthodologiques complémentaires. Une approche "globale", d'analyse des données statistiques sur les flux et les implantations, a permis de saisir les phénomènes de concentration spatiale, de création de centralités et de périphéries à l'échelle régionale. Une approche plus fine, à l'échelle de la firme, relevant à la fois de l'économie des transports et des sciences de gestion de la production, consiste à décomposer l'appareil productif par site et par fonction, permettant ainsi de comprendre le fonctionnement spatial des firmes. L'analyse d'entreprises représentatives de cinq secteurs d'activité fortement présents dans la Région a révélé une grande diversité d'organisations. La définition de cinq critères a permis l'élaboration d'une typologie et la proposition de trois modèles de référence pour les organisations logistiques. Ces modèles expriment l'évolution des besoins, que l'offre des prestataires logistiques devra satisfaire. Les mécanismes qui structurent la demande obligent les prestataires logistiques à modifier leur organisation et les stratégies de leur localisation, la tendance à la métropolisation de l'espace urbain lillois qui exprime cette stratégie, obéit à certains critères qualitatifs, que cette thèse a identifiés.
Fichier principal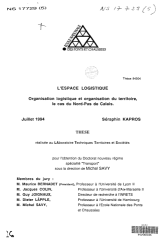 1994TH_KAPROS_S_NS17729.pdf (16.18 Mo)
Télécharger le fichier
Origin : Files produced by the author(s)