Implémentation d'un modèle d'acteur, application au traitement de données partielles en audit thermique de bâtiment
The nature of energy audit in existing buildings put down some difficulties for computer software realisation. One of the most important aspects, related to the uncertainty of data and their processing in computer programs, has not been taken into account by "classical" systems. The purpose of this thesis is to establish the basis of a new generation of tools for energy audit, using advanced programming techniques. After a detailed analysis of the problem, we give an implementation of an actor model in Scheme, and an experimental realisation. The use of certain important concepts, such as the "continuation", allows us to implement powerful and elegant control structures. The experimental realisation shows clearly the advantage of this new approach to energy audit in existing buildings.
L'audit thermique des bâtiments existants, par la nature de l'opération, pose un certain nombre de problèmes liés à la réalisation d'outils informatiques. Un des aspects importants, concernant les informations partielles (incertaines, imprécises et lacunaires) et leur traitement dans un programme informatique, n'est jusqu'alors pas pris en compte par des outils ''classiques". On propose donc, dans cette thèse, d'établir les bases d'une nouvelle génération d'outils d'aide au diagnostic, en utilisant les techniques de programmation avancée. Après une analyse détaillée de la problématique, nous avons construit une couche d'un modèle d'acteur à partir de Scheme, et réalisé une maquette informatique. Certains concepts importants, notamment celui de la "continuation" permettant la mise en oeuvre de structures de contrôle souples, puissantes et élégantes, ont été largement exploités. La réalisation de la maquette permet de montrer les intérêts d'une telle approche.
Fichier principal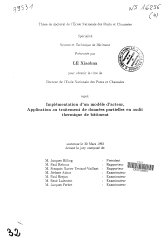 1992TH_LE_X_NS16256.pdf (7.44 Mo)
Télécharger le fichier
Origin : Files produced by the author(s)